In order to encounter a profitable and rewarding programming position, it is first important to present a well-written and yet concise CV.This can be very difficult at times; particularly if you are not familiar with the basic metrics to take into account.As a CV may very well represent the final determinant between success and failure, it is critical to present yourself in the correct fashion.We ask you to take a few moments and view the programmer CV sample found below.This template will help you to organise your CV in the most efficient and effective manner possible.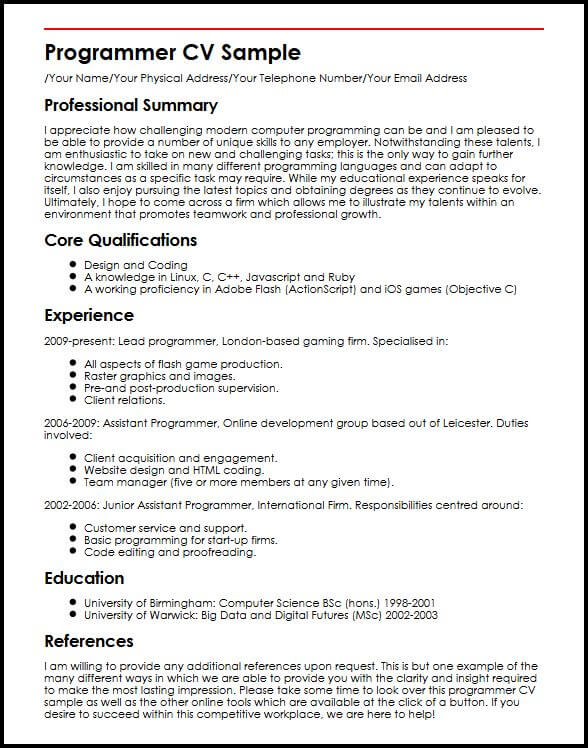 Our professional CV builder is designed to build the most powerful CV and save you time.
Programmer CV Sample/Your Name/Your Physical Address/Your Telephone Number/Your Email Address
Professional Summary
I appreciate how challenging modern computer programming can be and I am pleased to be able to provide a number of unique skills to any employer.Notwithstanding these talents, I am enthusiastic to take on new and challenging tasks; this is the only way to gain further knowledge.I am skilled in many different programming languages and can adapt to circumstances as a specific task may require.While my educational experience speaks for itself, I also enjoy pursuing the latest topics and obtaining degrees as they continue to evolve.Ultimately, I hope to come across a firm which allows me to illustrate my talents within an environment that promotes teamwork and professional growth.
Core Qualifications
Design and Coding
A knowledge in Linux, C, C++, Javascript and Ruby
A working proficiency in Adobe Flash (ActionScript) and iOS games (Objective C)
Experience
2009-present: Lead programmer, London-based gaming firm.Specialised in:
All aspects of flash game production.
Raster graphics and images.
Pre-and post-production supervision.
Client relations.
2006-2009: Assistant Programmer, Online development group based out of Leicester.Duties involved:
Client acquisition and engagement.
Website design and HTML coding.
Team manager (five or more members at any given time).
2002-2006: Junior Assistant Programmer, International Firm.Responsibilities centred around:
Customer service and support.
Basic programming for start-up firms.
Code editing and proofreading.
Education
University of Birmingham: Computer Science BSc (hons.) 1998-2001
University of Warwick: Big Data and Digital Futures (MSc) 2002-2003
References
I am willing to provide any additional references upon request.This is but one example of the many different ways in which we are able to provide you with the clarity and insight required to make the most lasting impression.Please take some time to look over this programmer CV sample as well as the other online tools which are available at the click of a button.If you desire to succeed within this competitive workplace, we are here to help!