Test Analyst CV Example
If you are applying for a software test analyst job, one key step towards success is to write a well-worded CV, carefully adapted towards the software testing vacancy in question.Your CV should convey your qualifications, accomplishments and experience to the selecting manager or H.R. interviewer.Before finalizing your application, we suggest you review this very helpful CV sample | there are examples of the important information to include and appropriate formatting.This software test analyst CV sample is a useful reminder of the type of document which will capture the interviewer's attention and help you towards your new job.
Create This CVSee all templates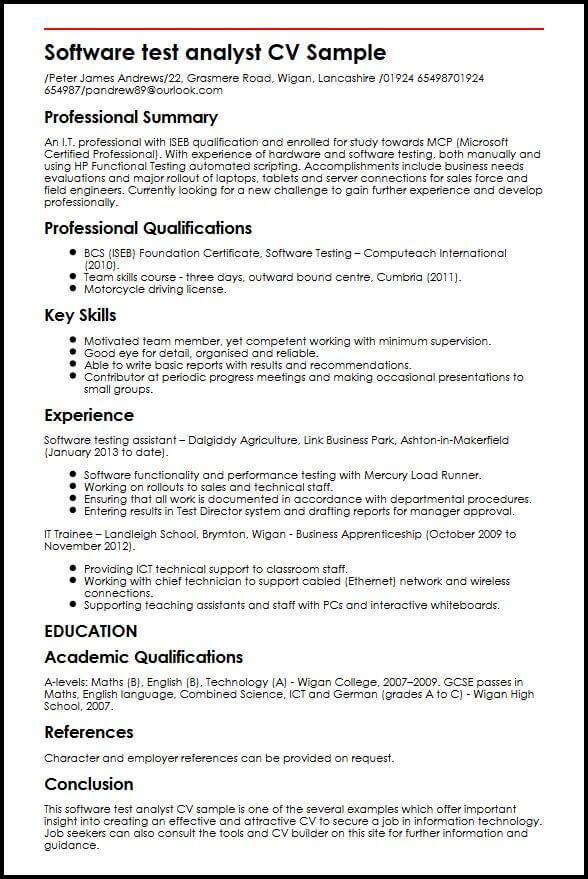 Build a professional CV that gets you hired.
Software test analyst CV Sample /Peter James Andrews/22, Grasmere Road, Wigan, Lancashire /01924 65498701924 654987/pandrew89@ourlook.com
Professional Summary
An I.T. professional with ISEB qualification and enrolled for study towards MCP (Microsoft Certified Professional).With experience of hardware and software testing,both manually and using HP Functional Testing automated scripting.Accomplishments include business needs evaluations and major rollout of laptops, tablets and server connections for sales force and field engineers.Currently looking for a new challenge to gain further experience and develop professionally.
Professional Qualifications
BCS (ISEB) Foundation Certificate, Software Testing | Computeach International (2010).
Team skills course - three days, outward bound centre, Cumbria (2011).
Motorcycle driving license.
Key Skills
Motivated team member, yet competent working with minimum supervision.
Good eye for detail, organised and reliable.
Able to write basic reports with results and recommendations.
Contributor at periodic progress meetings and making occasional presentations to small groups.
Experience
Software testing assistant | Dalgiddy Agriculture, Link Business Park, Ashton-in-Makerfield (January 2013 to date).
Software functionality and performance testing with Mercury Load Runner.
Working on rollouts to sales and technical staff.
Ensuring that all work is documented in accordance with departmental procedures.
Entering results in Test Director system and drafting reports for manager approval.
IT Trainee | Landleigh School, Brymton, Wigan - Business Apprenticeship (October 2009 to November 2012).
Providing ICT technical support to classroom staff.
Working with chief technician to support cabled (Ethernet) network and wireless connections.
Supporting teaching assistants and staff with PCs and interactive whiteboards.
EDUCATION
Academic Qualifications
A-levels:Maths (B), English (B), Technology (A) - Wigan College, 2007|2009.GCSE passes in Maths, English language, Combined Science, ICT and German (grades A to C) - Wigan High School, 2007.
References
Character and employer references can be provided on request.
Conclusion
This software test analyst CV sample is one of the several examples which offer important insight into creating an effective and attractive CV to secure a job in information technology.Job seekers can also consult the tools and CV builder on this site for further information and guidance.
Related CVs Computer software