Two Page CV Format
Job seekers are often advised to keep their CVs short and to the point, as hiring managers may spend only a few seconds scanning each application they receive, so you shouldensure that your resume is as concise and professional as possible.However, when you have been working for several years, you maywish to include more relevant work experience on your resume, in which case a two-page CV is the best option. If your CV only extends halfway down the second page, just reformat it to get it all on one page. When a second page is really necessary, make sure that you include your name and contact details on both pages. Before starting to write your own resume, consult our free Two Page CV Sample for valuable guidance on building a CV that is tailored to the position for which you are applying. In our example, we mention only two previous jobs but feel free to include more if you feel they are relevant.

Create This CVSee all templates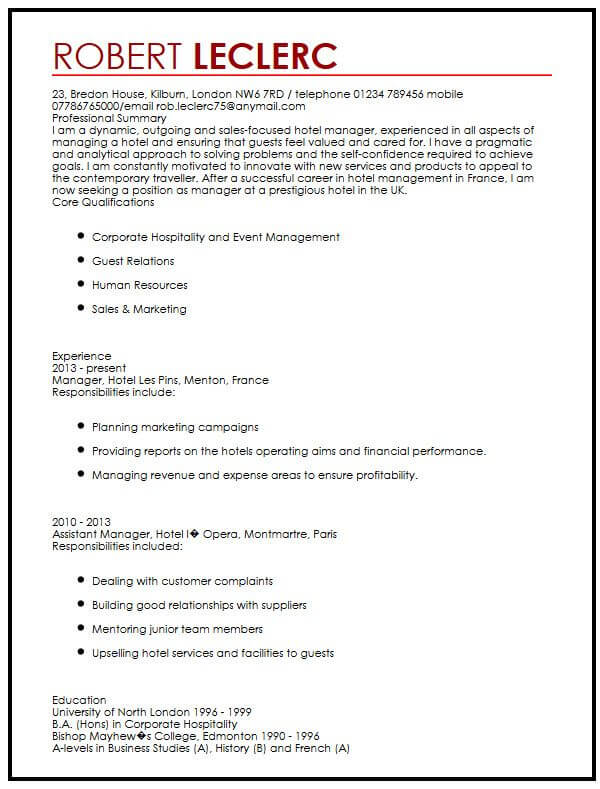 Build a professional CV that gets you hired.
23, Bredon House, Kilburn, London NW6 7RD / telephone 01234 789456 mobile 07786765000/email rob.leclerc75@anymail.com
Professional Summary
I am a dynamic, outgoing and sales-focused hotel manager, experienced in all aspects of managing a hotel and ensuring that guests feel valued and cared for. I have a pragmatic and analytical approach to solving problems and the self-confidence required to achieve goals. I am constantly motivated to innovate with new services and products to appeal to the contemporary traveller. After a successful career in hotel management in France, I am now seeking a position as manager at a prestigious hotel in the UK.
Core Qualifications
Corporate Hospitality and Event Management
Guest Relations
Human Resources
Sales & Marketing
Experience
2013 - present Manager, Hotel Les Pins, Menton, France
Responsibilities include:
Planning marketing campaigns
Providing reports on the hotels operating aims and financial performance.
Managingrevenue and expense areas to ensure profitability.
2010 - 2013
Assistant Manager, Hotel l' Opera, Montmartre, Paris
Responsibilities included:
Dealing with customer complaints
Building good relationships with suppliers
Mentoring junior team members
Upselling hotel services and facilities to guests
Education
University of North London 1996 - 1999 B.A. (Hons) in Corporate Hospitality
Bishop Mayhew's College, Edmonton 1990 - 1996
A-levels in Business Studies (A), History (B) and French (A)
Conclusion
An effective, polished-looking two-page CV is an important opportunity to make a good impression on a potential employer. You can save yourself time and effort by studying the free CV sample on the website before writing your own CV, tailored to the position you are applying for.