European CV Format
Many people believe that writing a CV is a daunting and time-consuming process, but it doesn't have to be with our European CV Sample, which provides key insights into writing a CV that is particularly useful for those with an international education and career.Our European CV Sample has been carefully structured and formatted to comply with the type of document that is most likely to capture the attention of a hiring manager.It is vital that your CV is as well-written and impressive as possible - it is your chance to impress a future employer and could lead to the offer of the job of your dreams!

Create This CVSee all templates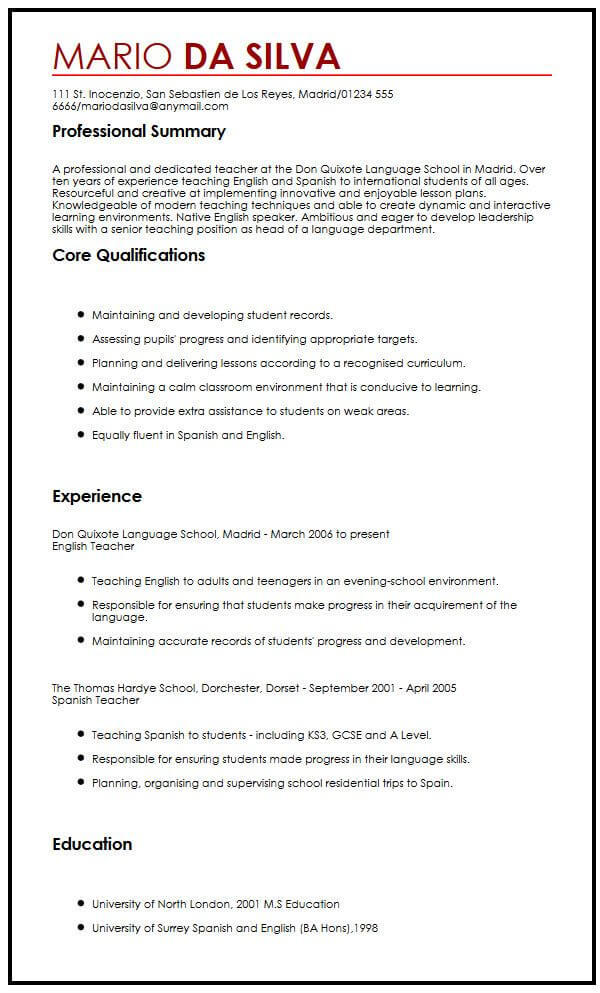 Build a professional CV that gets you hired.
111 St. Inocenzio, San Sebastien de Los Reyes, Madrid/01234 555 6666/mariodasilva@anymail.com
Professional Summary
A professional and dedicated teacher at the Don Quixote Language School in Madrid. Over ten years of experience teaching English and Spanish to international students of all ages. Resourceful and creative at implementing innovative and enjoyable lesson plans. Knowledgeable of modern teaching techniques and able to create dynamic and interactive learning environments. Native English speaker. Ambitious and eager to develop leadership skills with a senior teaching position as head of a language department.
Core Qualifications
Maintaining and developing student records.
Assessing pupils' progress and identifying appropriate targets.
Planning and delivering lessons according to a recognised curriculum.
Maintaining a calm classroom environment that is conducive to learning.
Able to provide extra assistance to students on weak areas.
Equally fluent in Spanish and English.
Experience
Don Quixote Language School, Madrid - March 2006 to presentEnglish Teacher
Teaching English to adults and teenagers in an evening-school environment.
Responsible for ensuring that students make progress in their acquirement of the language.
Maintaining accurate records of students' progress and development.
The Thomas Hardye School, Dorchester, Dorset - September 2001 - April 2005Spanish Teacher
Teaching Spanish to students - including KS3, GCSE and A Level.
Responsible for ensuring students made progress in their language skills.
Planning, organising and supervising school residential trips to Spain.
Education
University of North London, 2001 M.S Education
University of Surrey Spanish and English (BA Hons),1998
Conclusion
This European CV Sample is just one of many useful CV samples that can be used to give valuable insights into the CV writing process. Job seekers may also be interested in the free tools and CV builders that are available on our website.