Our customers have been hired by: *
Not all CVs need to be flashy and eye-catching. Sometimes, the best option is to keep things simple. Cue the entry of our simple CV templates. Whether you're aiming for a role as a teacher, shop assistant, warehouse operative or accountant, a clear and concise simple CV template showcases your skills, education, and experience and saves your time and energy for other job-hunting tasks.
Simple CV Template - Insightful

A pop of colour separates your personal details from the main body of your simple CV template to keep things interesting and appealing.

Simple CV Template - Traditional

Sometimes the best way to write a CV is to choose a simple CV template. Bold headings, concise bullet points and simple formatting of this CV template will make writing a CV a piece of cake.

Simple CV Template - Executive

A simple CV template in the executive style provides space for all of your experience and key qualities, allowing recruiters to easily review your document.

Simple CV Template - Conservative

Keep things simple with a conservative CV template that displays your contact details, followed by your professional summary, skills, work history, and education.

Simple CV Template - Distinguished

A simple CV template to create a universal CV ideal for any career level or industry. See how easy it is to customise it.

Simple CV Template - Bold

If you're looking for something universal but equally striking, try our simple CV template in Bold style. The extra-bold headings make it easy for recruiters to review your CV, no matter the industry.
Simple CV format and layout
A successful simple CV is about more than just words. You also need to consider the layout and formatting. Looking for a simple CV format? There is no one-size-fits-all solution. You may need to use a different layout depending on the job role or your level of experience.
However, a simple CV layout in the UK will generally include:
a professional statement,
followed by work history,
qualifications,
and academic history.
With all this information already on your CV, remember that the simple format assumes that your CV fits on one page. Two-page CVs are acceptable, but are much less common.
You'll also need to consider the fact that many companies use ATS software to filter job applications based on certain keywords. Ensure that your formatting is ATS-friendly by choosing a CV template from myPerfectCV – all our templates are recruiters-approved!
David Dunne
8 Holgate Rd, Bristol BS2 9NF
07912345678
David.Dunne@example-example.co.uk
Professional summary
Energetic and outgoing professional with dedication to positive guest relations. Passionate about securing new, challenging position as server or hostess within fast-paced restaurant or bar. High-volume dining, customer service and cash-handling background.
Work history
March 2018 – Current
Master Steak House – Bristol
Server
Promptly cleared away dirty dishes, wiped down surfaces and refreshed glasses or beverages.
Confirmed legal drinking ages and discontinued service to intoxicated guests.
Ensured guests left with positive impression of restaurant, helping to promote repeat business.
January 2014 – February 2018
Vivino Restaurant – Bristol
Server
Developed customer and employee loyalty by building strong, positive rapport.
Prepared buffet and salad bar, replenishing food items, condiments and cutlery throughout dinner service.
Prevented serving errors by recording orders accurately and communicating clearly with kitchen staff.
Skills
Efficient under pressure
Cleaning requirements
Table clearing
Cash handling
Interpersonal skills
Food safety understanding
Education
2014
Bristol College
NVQ Level 2 Hospitality
Top tips for using a simple CV template
Choose the right CV template for you!

Creating a common CV can be time-consuming, so why not get a head start with a basic CV template download? Simple CV templates have a lot in common. They use a basic font, clean layout, and plain colours, putting the focus on your personal qualities rather than the document itself. But that doesn't mean they're identical or one-size-fits-all. A simple CV template for teenagers will differ from simple, creative CV templates, which is why it's important to put some thought into your choice and select the template that works best for your application.

Keep it simple!

Okay, we're sure you get the idea by now, but the vast majority of recruiters are looking for simplicity in the applications they read. Nobody wants to read through endless jargon and needlessly complex terms. Nor do they want to see long, winding paragraphs about your work history. Use bullet points to stay concise when listing your experience and key skills, and stick to plain English wherever possible.

Use reverse-chronology in your work history

Universal CV templates are a solid foundation for your CV, providing the layout and structure you need to enter your all-important information. One thing they can't dictate is how you order that information, especially when it comes to your work history. In this case, it's best to use a reverse-chronological format. Put simply, that means listing your most recent role first. This way, recruiters can see the most relevant information then work backwards to get a better idea of your career to date if needed.

Include all the must-have information

With universal CV templates, you'll notice that there is room for a personal statement, key CV skills, work history, and education or qualifications. Whatever role you're applying for, these sections are crucial to demonstrate what you can offer to an employer. With that in mind, it's important not to rush them or remove any sections unless there's nothing you can add that recruiters will want to see. Make sure you consider each area of your CV and include anything that's relevant.

Look at basic CV examples before writing

Before getting stuck into your basic blank CV template, it helps to look at CV examples to understand the best way to convey your skills and experience to recruiters. Look at some basic CV examples from the UK for your desired job role. Examine the information included in the personal statements, role descriptions, and skills. Once you've written out your CV, compare the basic CV structure and layout in the CV examples against your own. Are there any areas that could be made clearer?
Dos and don'ts of using a simple CV template for UK jobs
Do
Find a professional, simple CV template. Simple doesn't have to mean amateurish. Starting from scratch with Microsoft Word will result in a CV that stands out for all the wrong reasons. Instead, spend some time finding a CV template that really looks the part. Think bold headings, a clear structure, and well-labelled sections for your all-important skills and experience.

Do your research before writing a simple CV outline. The key cornerstone of creating a great CV is awareness of the company you are applying to. If you plan your basic CV outline before researching the company, you could focus on details that are irrelevant to the role, or not in line with the organisation's ethos. Look up their formatting guidelines, as well.

Keep things concise and to the point. Staying brief will be universally appreciated by all employers and recruiters, who have to read through tens or even hundreds of CVs for every role. Simple CVs should be kept to one page where possible or two pages as a maximum. Bullet points are a great way of achieving this, allowing you to list skills or responsibilities without long, winding paragraphs.
Don't
Don't forget to include the keywords. Simple CV templates are highly compatible with ATS software, which recruiters use to scan CVs for keywords and phrases. Of course, you need to ensure these words and phrases are included in your CV to start with. Have a good read through the job specification and pick out essential skills and qualities, then make sure they're included in your CV.

Don't include irrelevant information. The best way to make use of your basic CV template is to include the right information. If you ramble for several pages about jobs you had twenty years ago in a completely different industry, you're unlikely to be a successful candidate. Keep your CV to two pages maximum. Recruiters are potentially reading hundreds of CVs, so you need to capture their attention quickly and hold it to the final word.

Don't forget to use a cover letter. Especially if you are using a universal CV to apply for different job roles, a cover letter could be a great way to tailor your application and set you apart from other applicants. It doesn't have to be particularly long or complicated. Your cover letter is a simple way of introducing your application and expressing why you're a great fit for the job.
FAQs about simple CVs
How to create a simple CV?
The easiest way to make simple CV is to use a pre-made template as your starting point. It should include all of the must-have sections for your CV, starting with the personal statement then moving onto work history, skills, and education. Once you have your template, fill it in with your information and save in your preferred format. It's that easy with myPerfectCV.
Can I tailor my universal CV to specific jobs?
A simple, universal CV can (and even should be) be tailored to the job you're applying for. Some small tweaks to the personal statement, education, and work history can make a big difference when recruiters are assessing your suitability for a role. By including job-specific keywords and phrases, you will also make your CV more likely to pass an ATS check.
How to write a basic CV for student?
A basic CV for a 16-year-old will look very different to one for a college student. Generally, a basic CV for a teenager will focus on academic achievements from school, key skills, and any hobbies or interests that might be relevant to the job role. Meanwhile, a basic CV for students who are at college or university will also incorporate skills and achievements from their current course or module. Utilising a simple CV template for students is a fantastic time-saver.
Who should use a simple CV template?
Universal CV templates are highly useful if you want to create a simple CV to apply for multiple jobs. However, they can also be used by applicants who are looking for one template which can be tailored for different applications. Doing so saves you having to start from scratch time and again or move things around, while still impressing recruiters with your CV.
Simple CV template can start up your career
Simple, universal CV templates can be the ultimate starting point for a wide range of roles and sectors. At myPerfectCV, we make it easy to choose the best simple CV template for your needs then fill it with pre-written content such as key skills, work history, and a personal statement. Browse myPerfectCV's selection of CV examples and basic CV templates to save yourself the time and energy of creating one from scratch.
Choose your template as a starting point, select content based on your job role and industry, apply the finishing touches, then download your CV in Word, HTML, PDF, and other formats. It's that simple!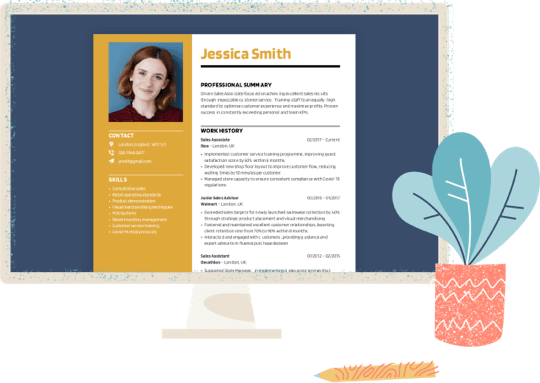 *The names and logos of the companies referred to above are all trademarks of their respective holders. Unless specifically stated otherwise, such references are not intended to imply any affiliation or association with myperfectCV.