Not all CVs need to be flashy and eye-catching. Sometimes, the best option is to keep things simple. Cue the entry of our simple, professional CV templates.
Choose from hand-picked CV designs with all the right sections to let your skills and experience do the talking. Whether it's a simple CV template for teenagers and school leavers or simple, creative CV templates for roles in marketing, fashion and design, you'll find it here at myPerfectCV.
Download a simple CV template
Classic

When it comes to simple CV templates for UK roles, it's hard to see past our classic layout. Text is left aligned with bold headings that are easy to skim-read.

Distinguished

If you're looking for a simple, creative CV templates, our distinguished layout does the trick. The centred look combines simplicity and style with a hint of creative flair.

Executive

Our executive template is ideal for professional, simple CV applications. Managers, graduates or just ambitious applicants can showcase their skills with a clean, formal look.
Simple CV templates by job title and industry
With a simple CV template, you're free to apply for a wide range of roles in different industries. Here are some examples of clear and concise CVs which have been made using our UK templates.
Top tips for using a simple CV template
Choose the right CV template for you!

Simple CV templates have a lot in common. They use a basic font, clean layout, and plain colours, putting the focus on your personal qualities rather than the document itself. But that doesn't mean they're identical or one-size-fits-all. A simple CV template for teenagers will differ from simple, creative CV templates, which is why it's important to put some though into your choice and select the template that works best for your application.

Keep it simple!

Okay, we're sure you get the idea by now, but the vast majority of recruiters are looking for simplicity in the applications they read. Nobody wants to read through endless jargon and needlessly complex terms. Nor do they want to see long, winding paragraphs about your work history. Use bullet points to stay concise when listing your experience and key skills, and stick to plain English wherever possible.

Tailor your CV template

Simple CV templates in Word will typically comprise sections for your personal statement, work history, skills, and qualifications – with work history usually accounting for the majority of a CV. However, this format isn't rigid for all applications. You can tailor a simple CV template download to your specific requirements. As an example, a simple CV template for school leavers will typically focus on skills and education rather than work history.

Consider a simple CV template with a photo

If you want to add a personal touch to a simple CV, a template with a photo could be the perfect fit. Many of our CV templates include space for a photo at the top of the CV, alongside personal details like your name, address, phone number, and email address. Adding a photo gives recruiters a better idea of whose application they're reviewing, and can make it easier for them to relate to the content of your CV.
FAQs about simple CVs
How to create a simple CV
If you're wondering how to make simple CVs, the easiest way is to use a pre-made template as your starting point. This will include all of the must-have sections for your CV, starting with the personal statement then moving onto work history, skills, and education. You can also add a section on personal interests if your hobbies or achievements outside of work are relevant to the job or industry in question.
How to write a simple CV for a job
UK examples of simple CVs start with a pared-back design. The next challenge is getting the right tone and style when writing your CV. While it can be tempting to go over-the-top with terminology to show your expertise, it's better to stick to simple language so everything is clear and easy to read. Remember, recruiters aren't necessarily experts in the role they're hiring for, so jargon could actually alienate them and put them off your application.
How to write a simple CV for students
Much like a simple CV for school leavers or teenagers, most students' will lack the work history that makes up the majority of a standard CV. If this is the case, you can focus on the experience you've acquired during your studies. Team projects, presentations, and even sporting achievements can all demonstrate transferable skills like communication and leadership, which recruiters are looking for.
How should a simple CV look (UK)?
Whether it's on Word or HTML, a simple CV template should look clean and professional across the board. That starts with a simple font like Arial, Calibri or Times New Roman, and central- or left-alignment. You can use a bold or larger font for headings, but it's best to avoid colours if you want to maintain a plain and simple appearance.
How to make a quick and simple CV
If you're looking to create a simple CV in the quickest way possible, a CV builder is the easiest option. As well as getting a choice of simple CV layout templates, you'll be able to select pre-written content that's tailored to your job and sector. The result is a professional CV download in a matter of minutes.
Dos and don'ts of using a simple CV template for UK jobs
Do
Do find a professional, simple CV template Simple doesn't have to mean amateurish. Starting from scratch with Microsoft Word will result in a CV that stands out for all the wrong reasons. Instead, spend some time finding a CV template that really looks the part. Think bold headings, a clear structure, and well-labelled sections for your all-important skills and experience.
Do use reverse-chronology When simplicity is the order of the day, reverse-chronology is the best option for your CV. Put simply, it means listing the most recent experience and qualifications first, before moving backwards in time to previous roles or achievements. This way, recruiters get the most recent, relevant information first, with the option to dig a little deeper if they choose.
Don't
Don't forget the keywords Simple CV Word templates are highly compatible with ATS software, which recruiters use to scan CVs for keywords and phrases. Of course, you need to ensure those words and phrases are included in your CV to start with. Have a good read through the job specification and pick out essential skills and qualities, then make sure they're included in your CV.
Don't rush! Even the simplest CV should never be rushed. Simple can quickly turn into shoddy when your application is awash with typos, errors and inconsistencies. Whether you're a school leaver or experienced professional, you should always take your time when writing your CV and make sure it's checked, checked, and checked again before sending.
Make your

CV simply the best
At myPerfectCV, we make it easy to build a CV that pairs simplicity with success. Whether you're looking for a simple CV with a photo or the ultimate creative template to showcase your skills, our CV builder has everything you need to keep things quick and easy.
Choose your template as a starting point, select pre-written content based on your job role and industry, apply the finishing touches, then download your CV in Word, HTML, PDF, and other formats.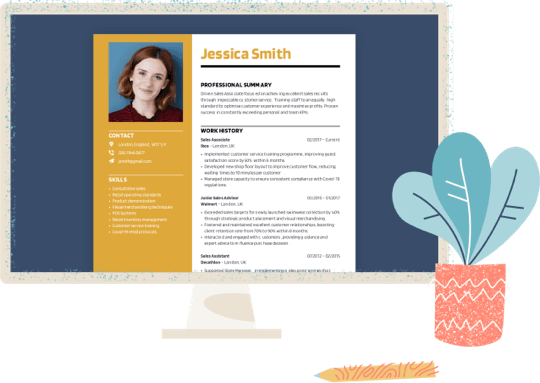 *The names and logos of the companies referred to above are all trademarks of their respective holders. Unless specifically stated otherwise, such references are not intended to imply any affiliation or association with myperfectCV.