Hostess CV Example
If you enjoy working with others and you have excellent communication skills, a hostess could indeed be a very rewarding role.In fact, certain candidates within this field can expect to earn a substantial amount of money while building long-lasting relationships with others.As you may imagine, such attributes have also made the application process challenging.Creating a properly formatted CV is a critical step of the overall entry scenario.The hostess CV sample found below has been constructed by experts within the industry and it is meant to represent a rough guide for those who may be new to this field.
Create This CVSee all templates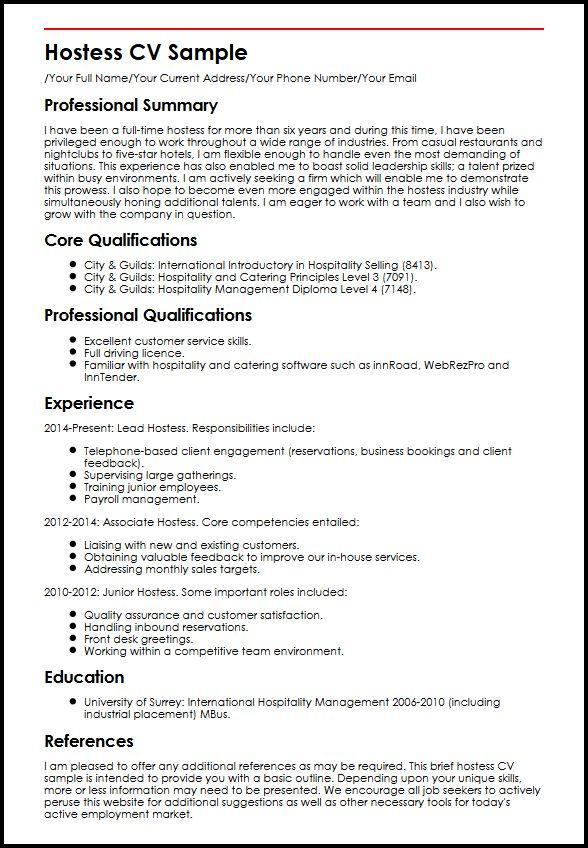 Build a professional CV that gets you hired.
Hostess CV Sample/Your Full Name/Your Current Address/Your Phone Number/Your Email
Professional Summary
I have been a full-time hostess for more than six years and during this time, I have been privileged enough to work throughout a wide range of industries.From casual restaurants and nightclubs to five-star hotels, I am flexible enough to handle even the most demanding of situations.This experience has also enabled me to boast solid leadership skills; a talent prized within busy environments.I am actively seeking a firm which will enable me to demonstrate this prowess.I also hope to become even more engaged within the hostess industry while simultaneously honing additional talents.I am eager to work with a team and I also wish to grow with the company in question.
Core Qualifications
City & Guilds: International Introductory in Hospitality Selling (8413).
City & Guilds: Hospitality and Catering Principles Level 3 (7091).
City & Guilds: Hospitality Management Diploma Level 4 (7148).
Professional Qualifications
Excellent customer service skills.
Full driving licence.
Familiar with hospitality and catering software such as innRoad, WebRezPro and InnTender.
Experience
2014-Present: Lead Hostess.Responsibilities include:
Telephone-based client engagement (reservations, business bookings and client feedback).
Supervising large gatherings.
Training junior employees.
Payroll management.
2012-2014: Associate Hostess.Core competencies entailed:
Liaising with new and existing customers.
Obtaining valuable feedback to improve our in-house services.
Addressing monthly sales targets.
2010-2012: Junior Hostess.Some important roles included:
Quality assurance and customer satisfaction.
Handling inbound reservations.
Front desk greetings.
Working within a competitive team environment.
Education
University of Surrey: International Hospitality Management 2006-2010 (including industrial placement) MBus.
References
I am pleased to offer any additional references as may be required.This brief hostess CV sample is intended to provide you with a basic outline.Depending upon your unique skills, more or less information may need to be presented.We encourage all job seekers to actively peruse this website for additional suggestions as well as other necessary tools for today's active employment market.
Related CVs Hospitality CV Examples