Assistant Hotel Manager CV Example
Regardless of the economic climate, a position within the hospitality industry can prove to be a rewarding and stable job title.However, the competition within this sector is more daunting than ever before.It is necessary to boast an impressive set of skills and these need to be displayed in a very professional manner.Formatting and presenting a quality CV is crucial during the application process.The assistant hotel manager CV sample seen below provides an excellent template for anyone who may not be certain how this document should be written.
Create This CVSee all templates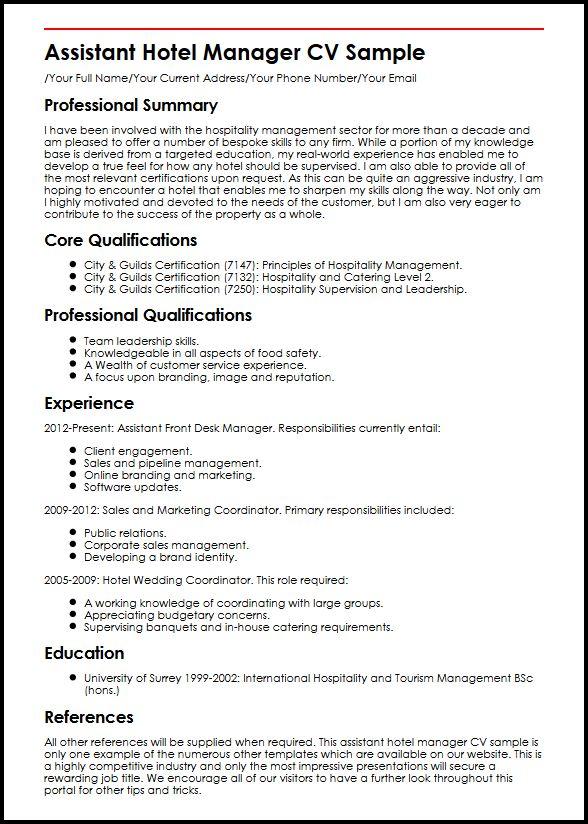 Build a professional CV that gets you hired.
Assistant Hotel Manager CV Sample/Your Full Name/Your Current Address/Your Phone Number/Your Email
Professional Summary
I have been involved with the hospitality management sector for more than a decade and am pleased to offer a number of bespoke skills to any firm.While a portion of my knowledge base is derived from a targeted education, my real-world experience has enabled me to develop a true feel for how any hotel should be supervised.I am also able to provide all of the most relevant certifications upon request.As this can be quite an aggressive industry, I am hoping to encounter a hotel that enables me to sharpen my skills along the way.Not only am I highly motivated and devoted to the needs of the customer, but I am also very eager to contribute to the success of the property as a whole.
Core Qualifications
City & Guilds Certification (7147): Principles of Hospitality Management.
City & Guilds Certification (7132): Hospitality and Catering Level 2.
City & Guilds Certification (7250): Hospitality Supervision and Leadership.
Professional Qualifications
Team leadership skills.
Knowledgeable in all aspects of food safety.
A Wealth of customer service experience.
A focus upon branding, image and reputation.
Experience
2012-Present: Assistant Front Desk Manager.Responsibilities currently entail:
Client engagement.
Sales and pipeline management.
Online branding and marketing.
Software updates.
2009-2012: Sales and Marketing Coordinator.Primary responsibilities included:
Public relations.
Corporate sales management.
Developing a brand identity.
2005-2009: Hotel Wedding Coordinator.This role required:
A working knowledge of coordinating with large groups.
Appreciating budgetary concerns.
Supervising banquets and in-house catering requirements.
Education
University of Surrey 1999-2002: International Hospitality and Tourism Management BSc (hons.)
References
All other references will be supplied when required.This assistant hotel manager CV sample is only one example of the numerous other templates which are available on our website.This is a highly competitive industry and only the most impressive presentations will secure a rewarding job title.We encourage all of our visitors to have a further look throughout this portal for other tips and tricks.