Fabricator Welder CV Example
To gain employment in the manufacturing and fabrication sectors you will need to write CV that accurately reflects your professional skills and other abilities in the workplace. As well as highlighting your strengths, it should be laid out in an appropriate format that makes it easy for employers to understand at a glance. Our free fabricator welder CV sample constitutes an invaluable tool for jobseekers and will help to make sure that you include everything you need as well as offering many other insights.
Create This CVSee all templates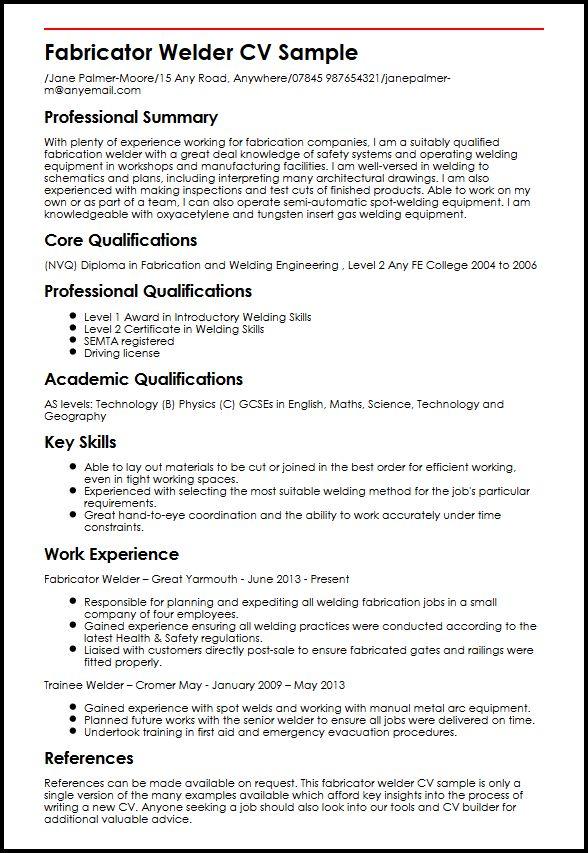 Build a professional CV that gets you hired.
Fabricator WelderCV Sample/Jane Palmer-Moore/15 Any Road, Anywhere/07845 987654321/janepalmer-m@anyemail.com
Professional Summary
With plenty of experience working for fabrication companies, I am a suitably qualified fabrication welder with a great deal knowledge of safety systems and operating welding equipment in workshops and manufacturing facilities. I am well-versed in welding to schematics and plans, including interpreting many architectural drawings. I am also experienced with making inspections and test cuts of finished products. Able to work on my own or as part of a team, I can also operate semi-automatic spot-welding equipment. I am knowledgeable with oxyacetylene and tungsten insert gas welding equipment.
Core Qualifications
(NVQ) Diploma in Fabrication and Welding Engineering , Level 2Any FE College 2004 to 2006
Professional Qualifications
Level 1 Award in Introductory Welding Skills
Level 2 Certificate in Welding Skills
SEMTA registered
Driving license
Academic Qualifications
AS levels: Technology (B) Physics (C)GCSEs in English, Maths, Science, Technology and Geography
Key Skills
Able to lay out materials to be cut or joined in the best order for efficient working, even in tight working spaces.
Experienced with selecting the most suitable welding method for the job's particular requirements.
Great hand-to-eye coordination and the ability to work accurately under time constraints.
Work Experience
Fabricator Welder | Great Yarmouth - June 2013 - Present
Responsible for planning and expediting all welding fabrication jobs in a small company of four employees.
Gained experience ensuring all welding practices were conducted according to the latest Health & Safety regulations.
Liaised with customers directly post-sale to ensure fabricated gates and railings were fitted properly.
Trainee Welder | Cromer May- January 2009 | May 2013
Gained experience with spot welds and working with manual metal arc equipment.
Planned future works with the senior welder to ensure all jobs were delivered on time.
Undertook training in first aid and emergency evacuation procedures.
References
References can be made available on request.This fabricator welder CV sample is only a single version of the many examples available which afford key insights into the process of writing a new CV. Anyone seeking a job should also look into our tools and CV builder for additional valuable advice.
Related CVs Construction CV Examples