Assistant Merchandiser CV Example
The retail sector represents a multi-billion pound sector within the United Kingdom and such a field can provide rewarding job opportunities to those looking to enjoy financial freedom.It is for this very same reason that the current merchandising landscape is also extremely competitive.Breaking into such an environment can be exceedingly difficult; particularly if an individual boasts only a moderate amount of experience or is unsure how to approach the application process.Therefore, the correct presentation is very important.This assistant merchandiser CV sample intends to highlight some of essential pieces of information that should be included during the recruitment process and in turn, the chances of securing a lucrative position can become much more of a reality.
Create This CVSee all templates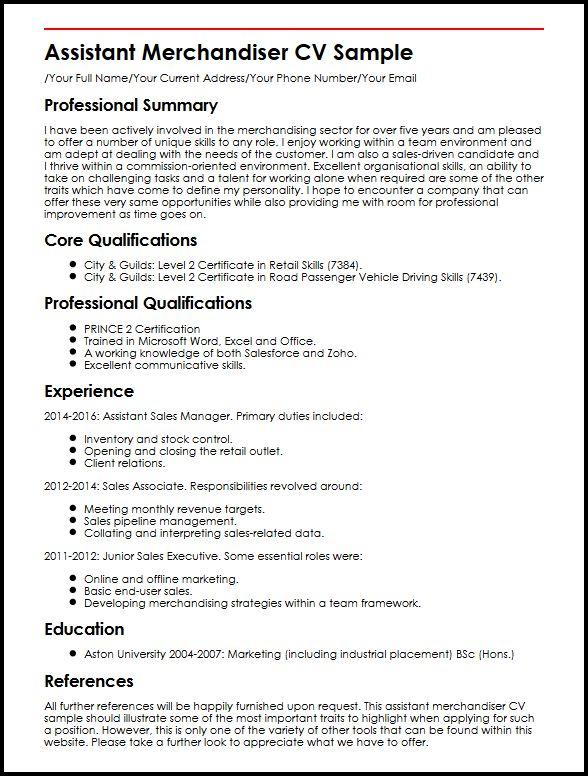 Build a professional CV that gets you hired.
Assistant Merchandiser CV Sample/Your Full Name/Your Current Address/Your Phone Number/Your Email
Professional Summary
I have been actively involved in the merchandising sector for over five years and am pleased to offer a number of unique skills to any role.I enjoy working within a team environment and am adept at dealing with the needs of the customer.I am also a sales-driven candidate and I thrive within a commission-oriented environment.Excellent organisational skills, an ability to take on challenging tasks and a talent for working alone when required are some of the other traits which have come to define my personality.I hope to encounter a company that can offer these very same opportunities while also providing me with room for professional improvement as time goes on.
Core Qualifications
City & Guilds: Level 2 Certificate in Retail Skills (7384).
City & Guilds: Level 2 Certificate in Road Passenger Vehicle Driving Skills (7439).
Professional Qualifications
PRINCE 2 Certification
Trained in Microsoft Word, Excel and Office.
A working knowledge of both Salesforce and Zoho.
Excellent communicative skills.
Experience
2014-2016: Assistant Sales Manager.Primary duties included:
Inventory and stock control.
Opening and closing the retail outlet.
Client relations.
2012-2014: Sales Associate.Responsibilities revolved around:
Meeting monthly revenue targets.
Sales pipeline management.
Collating and interpreting sales-related data.
2011-2012: Junior Sales Executive.Some essential roles were:
Online and offline marketing.
Basic end-user sales.
Developing merchandising strategies within a team framework.
Education
Aston University 2004-2007: Marketing (including industrial placement) BSc (Hons.)
References
All further references will be happily furnished upon request.This assistant merchandiser CV sample should illustrate some of the most important traits to highlight when applying for such a position.However, this is only one of the variety of other tools that can be found within this website.Please take a further look to appreciate what we have to offer.