Communications Officer CV Example
When it comes to ordering a CV, even highly qualified applicants can have difficulty working out the right way to list their skills and experience. A communication officer CV sample can help you to lay out your educational and work history in a clean, clear format, so that potential employers can easily pick out the information they need to make a decision. The free communication officer CV sample offered here is a useful starting point for creating your own CV from scratch, or for adapting and updating an existing CV to reflect the most relevant areas of your skill set.
Create This CVSee all templates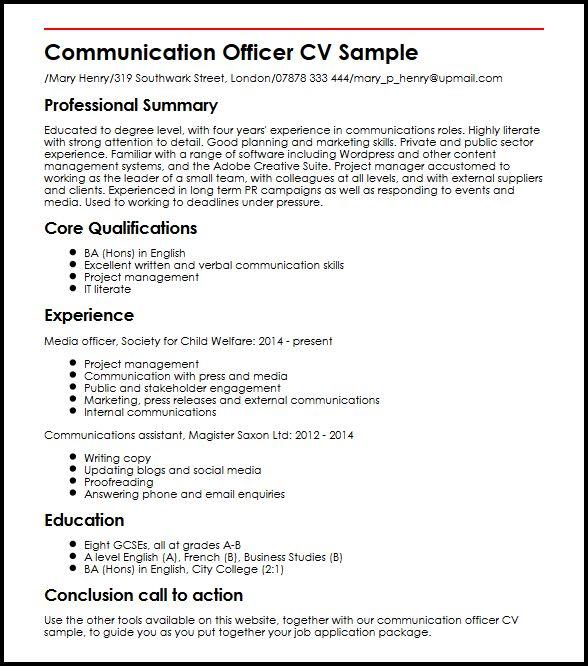 Build a professional CV that gets you hired.
Communication Officer CV Sample/Mary Henry/319 Southwark Street, London/07878 333 444/mary_p_henry@upmail.com
Professional Summary
Educated to degree level, with four years' experience in communications roles. Highly literate with strong attention to detail. Good planning and marketing skills. Private and public sector experience. Familiar with a range of software including Wordpress and other content management systems, and the Adobe Creative Suite. Project manager accustomed to working as the leader of a small team, with colleagues at all levels, and with external suppliers and clients. Experienced in long term PR campaigns as well as responding to events and media. Used to working to deadlines under pressure.
Core Qualifications
BA (Hons) in English
Excellent written and verbal communication skills
Project management
IT literate
Experience
Media officer, Society for Child Welfare: 2014 - present
Project management
Communication with press and media
Public and stakeholder engagement
Marketing, press releases and external communications
Internal communications
Communications assistant, Magister Saxon Ltd: 2012 - 2014
Writing copy
Updating blogs and social media
Proofreading
Answering phone and email enquiries
Education
Eight GCSEs, all at grades A-B
A level English (A), French (B), Business Studies (B)
BA (Hons) in English, City College (2:1)
Conclusion call to action
Use the other tools available on this website, together with our communication officer CV sample, to guide you as you put together your job application package.
Related CVs Marketing, Advertising, and Communication CV Examples