Visual Merchandiser CV Example
If you are looking for a job as a visual merchandiser, you will need to create a CV that can effectively bring to light your skills, past achievements, and future potential. If you are unsure as to how to go about writing a professional CV, take advantage of our free online tools, like the visual merchandiser CV sample shown below. This CV sample can help you become more effective in your jobseeking efforts by drawing on the experience of other successful professionals in this industry sector.
Create This CVSee all templates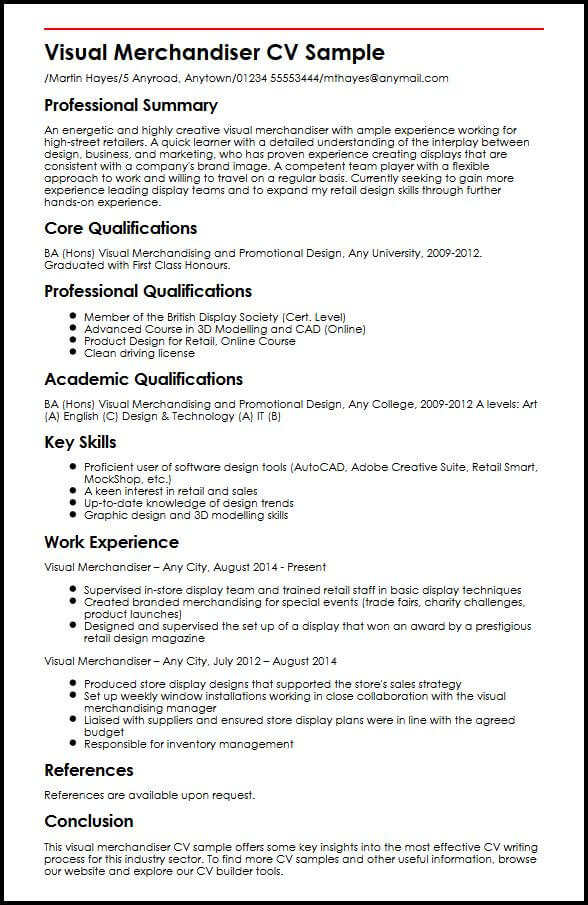 Build a professional CV that gets you hired.
Visual Merchandiser CV Sample/Martin Hayes/5 Anyroad, Anytown/01234 55553444/mthayes@anymail.com
Professional Summary
An energetic and highly creative visual merchandiser with ample experience working for high-street retailers. A quick learner with a detailed understanding of the interplay between design, business, and marketing, who has proven experience creating displays that are consistent with a company's brand image. A competent team player with a flexible approach to work and willing to travel on a regular basis. Currently seeking to gain more experience leading display teams and to expand my retail design skills through further hands-on experience.
Core Qualifications
BA (Hons) Visual Merchandising and Promotional Design, Any University, 2009-2012. Graduated with First Class Honours.
Professional Qualifications
Member of the British Display Society (Cert. Level)
Advanced Course in 3D Modelling and CAD (Online)
Product Design for Retail, Online Course
Clean driving license
Academic Qualifications
BA (Hons) Visual Merchandising and Promotional Design, Any College, 2009-2012A levels: Art (A) English (C) Design & Technology (A) IT (B)
Key Skills
Proficient user of software design tools (AutoCAD, Adobe Creative Suite, Retail Smart, MockShop, etc.)
A keen interest in retail and sales
Up-to-date knowledge of design trends
Graphic design and 3D modelling skills
Work Experience
Visual Merchandiser | Any City, August 2014 - Present
Supervised in-store display team and trained retail staff in basic display techniques
Created branded merchandising for special events (trade fairs, charity challenges, product launches)
Designed and supervised the set up of a display that won an award by a prestigious retail design magazine
Visual Merchandiser | Any City, July 2012 | August 2014
Produced store display designs that supported the store's sales strategy
Set up weekly window installations working in close collaboration with the visual merchandising manager
Liaised with suppliers and ensured store display plans were in line with the agreed budget
Responsible for inventory management
References
References are available upon request.
Conclusion
This visual merchandiser CV sample offers some key insights into the most effective CV writing process for this industry sector. To find more CV samples and other useful information, browse our website and explore our CV builder tools.