Communications Manager CV Example
The first step in securing any job is persuading the company or firm you want to work for to interview you. You achieve this by selling yourself andyour experience and skills in a well-written, well-formatted CV; this should be an easy task for anyone seeking a post as a communications manager. A poorly constructed CV that contains scant information isn't going to impress anyone and that candidate will be bypassed when it comes to interview selection. The free Communications Manager CV sample below demonstrates one way to get the crucial information over. However you should also look at how other Communications Manager CV samples are presented.
Create This CVSee all templates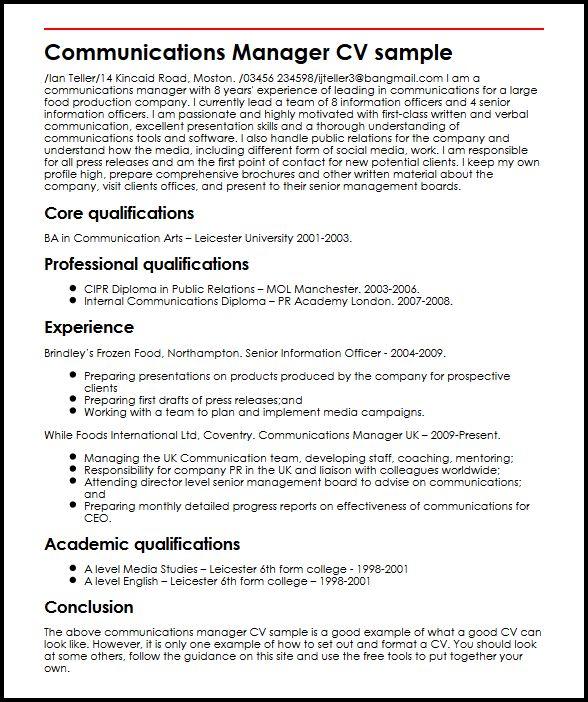 Build a professional CV that gets you hired.
Communications Manager CV sample/Ian Teller/14 Kincaid Road, Moston. /03456 234598/ijteller3@bangmail.comI am a communications manager with 8 years' experience of leading in communications for a large food production company. I currently lead a team of 8 information officers and 4 senior information officers. I am passionate and highly motivated with first-class written and verbal communication, excellent presentation skills and a thorough understanding of communications tools and software. I also handle public relations for the company and understand how the media, including different form of social media, work. I am responsible for all press releases and am thefirst point of contact for new potential clients. I keep my own profile high, prepare comprehensive brochures and other written material about the company, visit clients offices, and present to their senior management boards.
Core qualifications
BA in CommunicationArts | Leicester University 2001-2003.
Professional qualifications
CIPR Diploma in Public Relations | MOL Manchester. 2003-2006.
Internal Communications Diploma | PR Academy London. 2007-2008.
Experience
Brindley's Frozen Food,Northampton. SeniorInformation Officer - 2004-2009.
Preparing presentations on products produced by the company for prospective clients
Preparing first drafts of press releases;and
Working with a team to plan and implement media campaigns.
While Foods International Ltd, Coventry. Communications Manager UK | 2009-Present.
Managing the UK Communication team, developing staff, coaching, mentoring;
Responsibility for company PR in the UK and liaison with colleagues worldwide;
Attending director level senior management board to advise on communications; and
Preparing monthly detailed progress reports on effectiveness of communications for CEO.
Academic qualifications
A level Media Studies | Leicester 6th form college - 1998-2001
A level English | Leicester 6th form college | 1998-2001
Conclusion
The above communications manager CV sample is a good example of what a good CV can look like. However, it is only one example of how to set out and format a CV. You should look at some others, follow the guidance on this site and use the free tools to put together your own.
Related CVs Marketing, Advertising, and Communication CV Examples