Fashion Public Relations Assistant CV Example
If you are thinking about becoming employed as a fashion PR assistant as a way of getting into the industry or because this public relations is already your chosen career path, then you will need a CV that fully demonstrates your abilities and passion. By choosing to use our free fashion PR assistant CV sample, it is possible to highlight all of the relevantqualifications you might have as well as drawing attention to your love of the industry. Many fashion sector employers are looking for a combination of passion and sheer working ability, so your CV should put both over in a fully professional manner.
Create This CVSee all templates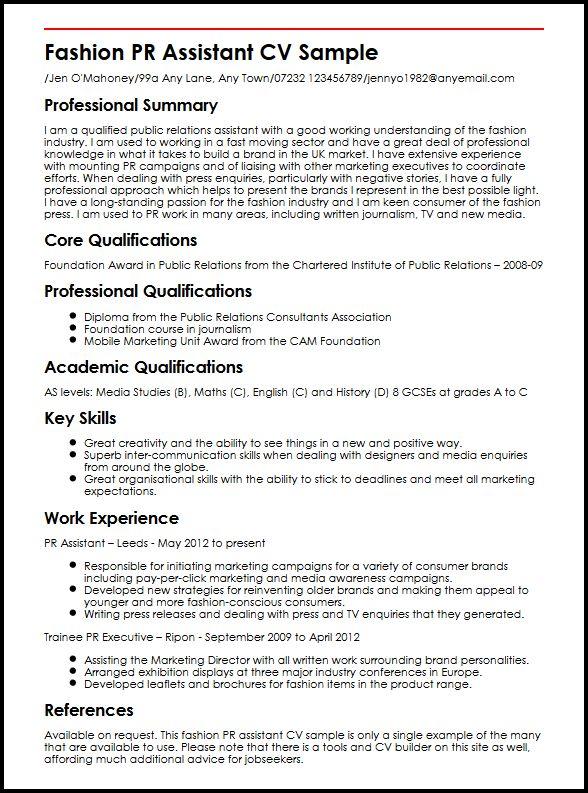 Build a professional CV that gets you hired.
Fashion PR Assistant CV Sample/Jen O'Mahoney/99a Any Lane, Any Town/07232 123456789/jennyo1982@anyemail.com
Professional Summary
I am a qualified public relations assistant with a good working understanding of the fashion industry. I am used to working in a fast moving sector and have a great deal of professional knowledge in what it takes to build a brand in the UK market. I have extensive experience with mounting PR campaigns and of liaising with other marketing executives to coordinate efforts. When dealing with press enquiries, particularly with negative stories, I have a fully professional approach which helps to present the brands I represent in the best possible light. I have a long-standing passion for the fashion industry and I am keen consumer of the fashion press. I am used to PR work in many areas, including written journalism, TV and new media.
Core Qualifications
Foundation Award in Public Relations from the Chartered Institute of Public Relations | 2008-09
Professional Qualifications
Diploma from the Public Relations Consultants Association
Foundation course in journalism
Mobile Marketing Unit Award from the CAM Foundation
Academic Qualifications
AS levels: Media Studies (B), Maths (C),English (C) and History (D)8 GCSEs at grades A to C
Key Skills
Great creativity and the ability to see things in a new and positive way.
Superb inter-communication skills when dealing with designers and media enquiries from around the globe.
Great organisational skills with the ability to stick to deadlines and meet all marketing expectations.
Work Experience
PR Assistant | Leeds -May 2012to present
Responsible for initiating marketing campaigns for a variety of consumer brands including pay-per-click marketing and media awareness campaigns.
Developed new strategies for reinventing older brands and making them appeal to younger and more fashion-conscious consumers.
Writing press releases and dealing with press and TV enquiries that they generated.
Trainee PR Executive | Ripon - September 2009 to April 2012
Assisting the Marketing Director with all written work surrounding brand personalities.
Arranged exhibition displays at three major industry conferences in Europe.
Developed leaflets and brochures for fashion items in the product range.
References
Available on request.This fashion PR assistant CV sample is only a single example of the many that are available to use. Please note that there is a tools and CV builder on this site as well, affording much additional advice for jobseekers.
Related CVs Marketing, Advertising, and Communication CV Examples