Monitoring Evaluation Officer CV Example
A job as a monitoring and evaluation officer is a responsible and specialised role, so when applying for this role, you'll need to demonstrate you have all the right skills, qualifications and experience to meet the job description and person specification. Using LiveCareer's monitoring and evaluation officer CV sample, you can build a professional CV to show the recruitment team you're potentially ideal for the job. This should make you and easy choice for selection to attend for the interviews.
Create This CVSee all templates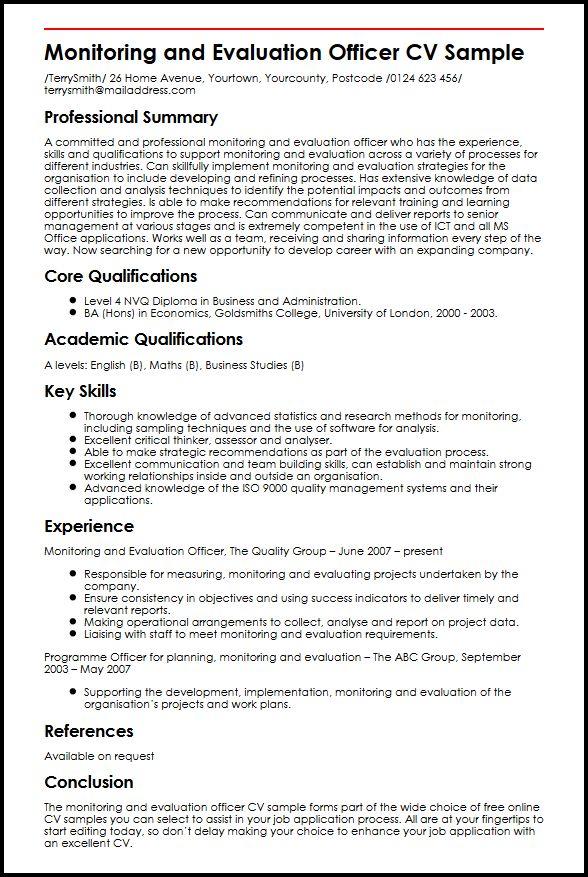 Build a professional CV that gets you hired.
Monitoring and Evaluation Officer CV Sample/TerrySmith/ 26 Home Avenue, Yourtown, Yourcounty, Postcode /0124 623 456/ terrysmith@mailaddress.com
Professional Summary
A committed and professional monitoring and evaluation officer who has the experience, skills and qualifications to support monitoring and evaluation across a variety of processes for different industries. Can skillfully implement monitoring and evaluation strategies for the organisation to include developing and refining processes. Has extensive knowledge of data collection and analysis techniques to identify the potential impacts and outcomes from different strategies. Is able to make recommendations for relevant training and learning opportunities to improve the process. Can communicate and deliver reports to senior management at various stages and is extremely competent in the use of ICT and all MS Office applications. Works well as a team, receiving and sharing information every step of the way. Now searching for a new opportunity to develop career with an expanding company.
Core Qualifications
Level 4 NVQ Diploma in Business and Administration.
BA (Hons) in Economics, Goldsmiths College, University of London, 2000 - 2003.
Academic Qualifications
A levels: English (B), Maths (B), Business Studies (B)
Key Skills
Thorough knowledge of advanced statistics and research methods for monitoring, including sampling techniques and the use of software for analysis.
Excellent critical thinker, assessor and analyser.
Able to make strategic recommendations as part of the evaluation process.
Excellent communication and team building skills, can establish and maintain strong working relationships inside and outside an organisation.
Advanced knowledge of the ISO 9000 quality management systems and their applications.
Experience
Monitoring and Evaluation Officer, The Quality Group | June 2007 | present
Responsible for measuring, monitoring and evaluating projects undertaken by the company.
Ensure consistency in objectives and using success indicators to deliver timely and relevant reports.
Making operational arrangements to collect, analyse and report on project data.
Liaising with staff to meet monitoring and evaluation requirements.
Programme Officer for planning, monitoring and evaluation | The ABC Group, September 2003 | May 2007
Supporting the development, implementation, monitoring and evaluation of the organisation's projects and work plans.
References
Available on request
Conclusion
The monitoring and evaluation officer CV sample forms part of the wide choice of free online CV samples you can select to assist in your job application process. All are at your fingertips to start editing today, so don't delay making your choice to enhance your job application with an excellent CV.