School Administrator Assistant CV Example
Taking the time to study this school admin assistant CV sample is a great way to obtain the information that you need to create your very own CV, complete with the precise formatting and information. If you are seeking a new a job as a school admin assistant, it is essential to create a CV that best reflects your related skills and abilities while also highlighting your main strengths. You can use this complimentary school admin assistant CV sample as a model to help you appreciate what you should include when you produce your own CV and you can also use the format that is set out here to guide you.
Create This CVSee all templates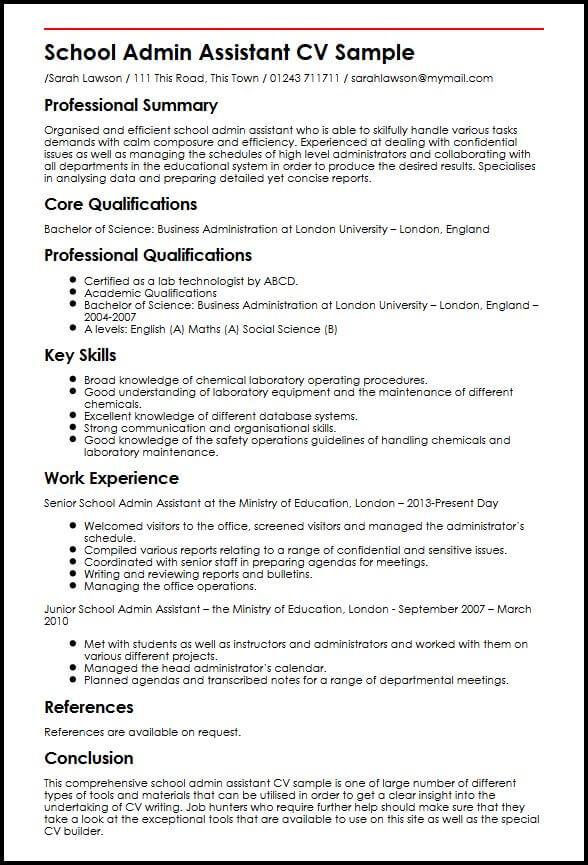 Build a professional CV that gets you hired.
School Admin Assistant CV Sample/Sarah Lawson / 111 This Road, This Town / 01243 711711 / sarahlawson@mymail.com
Professional Summary
Organised and efficient school admin assistant who is able to skilfully handle various tasks demands with calm composure and efficiency. Experienced at dealing with confidential issues as well as managing the schedules of high level administrators and collaborating with all departments in the educational system in order to produce the desired results. Specialises in analysing data and preparing detailed yet concise reports.
Core Qualifications
Bachelor of Science: Business Administration at London University | London, England
Professional Qualifications
Certified as a lab technologist by ABCD.
Academic Qualifications
Bachelor of Science: Business Administration at London University | London, England | 2004-2007
A levels: English (A) Maths (A) Social Science (B)
Key Skills
Broad knowledge of chemical laboratory operating procedures.
Good understanding of laboratory equipment and the maintenance of different chemicals.
Excellent knowledge of different database systems.
Strong communication and organisational skills.
Good knowledge of the safety operations guidelines of handling chemicals and laboratory maintenance.
Work Experience
Senior School Admin Assistant at the Ministry of Education, London | 2013-Present Day
Welcomed visitors to the office, screened visitors and managed the administrator's schedule.
Compiled various reports relating to a range of confidential and sensitive issues.
Coordinated with senior staff in preparing agendas for meetings.
Writing and reviewing reports and bulletins.
Managing the office operations.
Junior School Admin Assistant | the Ministry of Education, London - September 2007 | March 2010
Met with students as well as instructors and administrators and worked with them on various different projects.
Managed the head administrator's calendar.
Planned agendas and transcribed notes for a range of departmental meetings.
References
References are available on request.
Conclusion
This comprehensive school admin assistant CV sample is one of large number of different types of tools and materials that can be utilised in order to get a clear insight into the undertaking of CV writing. Job hunters who require further help should make sure that they take a look at the exceptional tools that are available to use on this site as well as the special CV builder.
Related CVs Administration CV Examples