Piano Teacher CV Example
Having a CV that really brings out your musical skills and talents together with your teaching ability and formal qualifications when you're applying for a job as a piano teacher is key to your success. With our Piano teacher CV sample you'll be able to create your personal CV from scratch thanks to the professional format guide as to what to write.Our Piano teacher CV sample will get your CV to the top of the pile, capturing the attention and imagination of those selecting the interview candidates and making sure you're included in the shortlist.
Create This CVSee all templates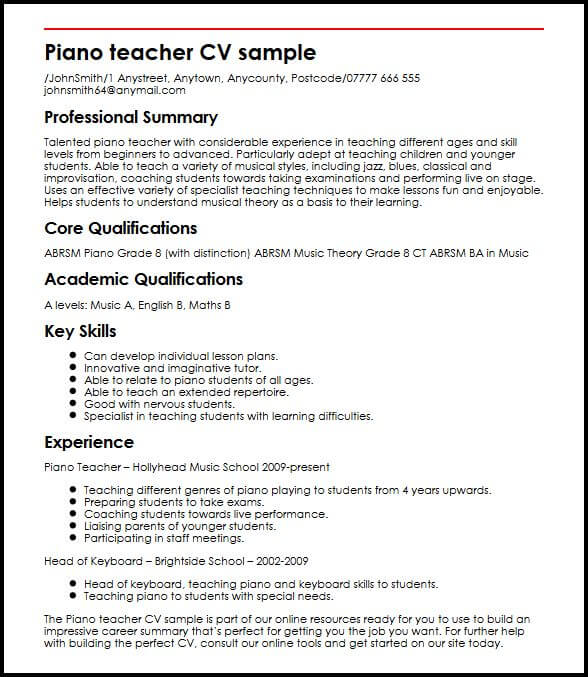 Build a professional CV that gets you hired.
Piano teacher CV sample/JohnSmith/1 Anystreet, Anytown, Anycounty, Postcode/07777 666 555 johnsmith64@anymail.com
Professional Summary
Talented piano teacher with considerable experience in teaching different ages and skill levels from beginners to advanced. Particularly adept at teaching children and younger students. Able to teach a variety of musical styles, including jazz, blues, classical and improvisation, coaching students towards taking examinations and performing live on stage. Uses an effective variety of specialist teaching techniques to make lessons fun and enjoyable. Helps students to understand musical theory as a basis to their learning.
Core Qualifications
ABRSM Piano Grade 8 (with distinction)ABRSM Music Theory Grade 8CT ABRSMBA in Music
Academic Qualifications
A levels: Music A, English B, Maths B
Key Skills
Can develop individual lesson plans.
Innovative and imaginative tutor.
Able to relate to piano students of all ages.
Able to teach an extended repertoire.
Good with nervous students.
Specialist in teaching students with learning difficulties.
Experience
Piano Teacher | Hollyhead Music School 2009-present
Teaching different genres of piano playing to students from 4 years upwards.
Preparing students to take exams.
Coaching students towards live performance.
Liaising parents of younger students.
Participating in staff meetings.
Head of Keyboard | Brightside School | 2002-2009
Head of keyboard, teaching piano and keyboard skills to students.
Teaching piano to students with special needs.
The Piano teacher CV sample is part of our online resources ready for you to use to build an impressive career summary that's perfect for getting you the job you want. For further help with building the perfect CV, consult our online tools and get started on our site today.
Related CVs Teaching & Education CV Examples