Special Needs Teaching Assistant CV Example
The special needs teaching assistant CV sample will help you no end to secure the job you want by enabling you to submit your CV along with your application form in a format that's professional and contains top quality content. This will accurately reflect your experience, skills and knowledge for the job. Building your CV using this sample will make a positive impression on those shortlisting candidates for interview, so you're more likely to be amongst the chosen few.
Create This CVSee all templates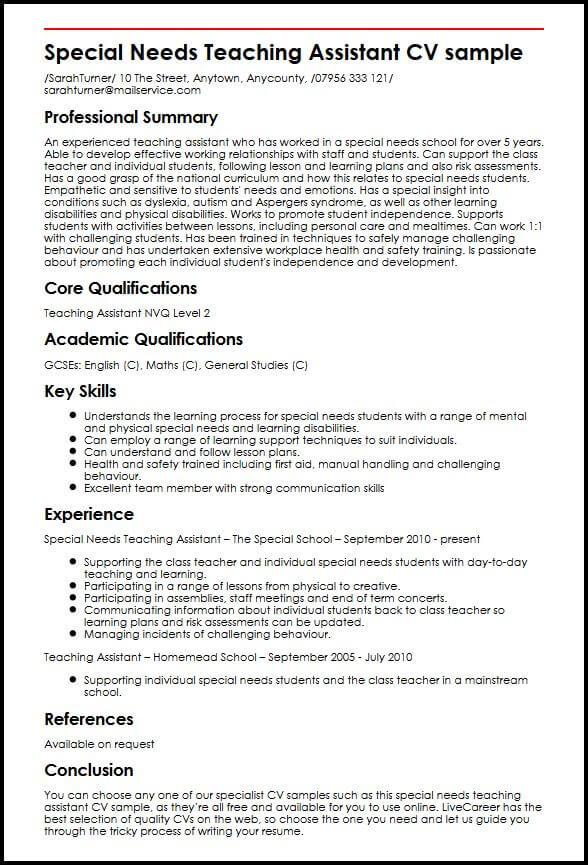 Build a professional CV that gets you hired.
Special Needs Teaching Assistant CV sample/SarahTurner/ 10 The Street, Anytown, Anycounty, /07956 333 121/ sarahturner@mailservice.com
Professional Summary
An experienced teaching assistant who has worked in a special needs school for over 5 years. Able to develop effective working relationships with staff and students. Can support the class teacher and individual students, following lesson and learning plans and also risk assessments. Has a good grasp of the national curriculum and how this relates to special needs students. Empathetic and sensitive to students' needs and emotions. Has a special insight into conditions such as dyslexia, autism and Aspergers syndrome, as well as other learning disabilities and physical disabilities. Works to promote student independence. Supports students with activities between lessons, including personal care and mealtimes. Can work 1:1 with challenging students. Has been trained in techniques to safely manage challenging behaviour and has undertaken extensive workplace health and safety training. Is passionate about promoting each individual student's independence and development.
Core Qualifications
Teaching Assistant NVQ Level 2
Academic Qualifications
GCSEs: English (C), Maths (C), General Studies (C)
Key Skills
Understands the learning process for special needs students with a range of mental and physical special needs and learning disabilities.
Can employ a range of learning support techniques to suit individuals.
Can understand and follow lesson plans.
Health and safety trained including first aid, manual handling and challenging behaviour.
Excellent team member with strong communication skills
Experience
Special Needs Teaching Assistant | The Special School | September 2010 - present
Supporting the class teacher and individual special needs students with day-to-day teaching and learning.
Participating in a range of lessons from physical to creative.
Participating in assemblies, staff meetings and end of term concerts.
Communicating information about individual students back to class teacher so learning plans and risk assessments can be updated.
Managing incidents of challenging behaviour.
Teaching Assistant | Homemead School | September 2005 - July 2010
Supporting individual special needs students and the class teacher in a mainstream school.
References
Available on request
Conclusion
You can choose any one of our specialist CV samples such as this special needs teaching assistant CV sample, as they're all free and available for you to use online. LiveCareer has the best selection of quality CVs on the web, so choose the one you need and let us guide you through the tricky process of writing your resume.
Related CVs Teaching & Education CV Examples