Assistant Professor CV Example
Whilst a CV should certainly display more than just your interests, there are instances when emphasising your passions will help to reinforce your talents within a selected industry. However, it is important to appreciate how these qualities should be mentioned as well as where they will need to be placed. Taking a look at our CV example with interests included is a great way to get started. This will provide you with a more in-depth understanding of how this document should be constructed. The illustration below is geared towards the educational sector and yet, you can change the content to suit your unique requirements.

Create This CVSee all templates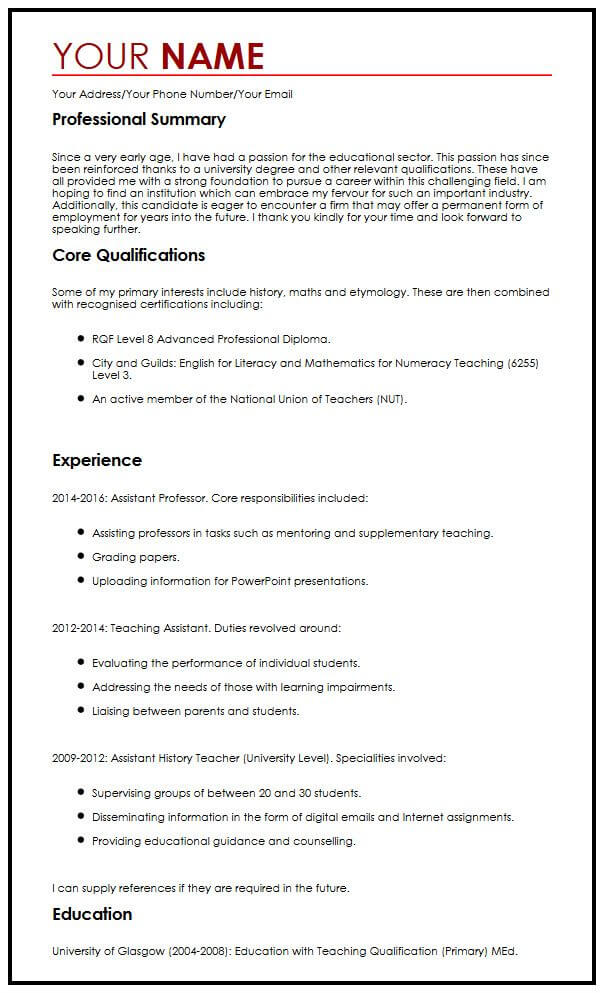 Build a professional CV that gets you hired.
Your Address/Your Phone Number/Your Email
Professional Summary
Since a very early age, I have had a passion for the educational sector. This passion has since been reinforced thanks to a university degree and other relevant qualifications. These have all provided me with a strong foundation to pursue a career within this challenging field. I am hoping to find an institution which can embrace my fervour for such an important industry. Additionally, this candidate is eager to encounter a firm that may offer a permanent form of employment for years into the future. I thank you kindly for your time and look forward to speaking further.
Core Qualifications
Some of my primary interests include history, maths and etymology. These are then combined with recognised certifications including:
RQF Level 8 Advanced Professional Diploma.
City and Guilds: English for Literacy and Mathematics for Numeracy Teaching (6255) Level 3.
An active member of the National Union of Teachers (NUT).
Experience
2014-2016: Assistant Professor. Core responsibilities included:
Assisting professors in tasks such as mentoring and supplementary teaching.
Grading papers.
Uploading information for PowerPoint presentations.
2012-2014: Teaching Assistant. Duties revolved around:
Evaluating the performance of individual students.
Addressing the needs of those with learning impairments.
Liaising between parents and students.
2009-2012: Assistant History Teacher (University Level). Specialities involved:
Supervising groups of between 20 and 30 students.
Disseminating information in the form of digital emails and Internet assignments.
Providing educational guidance and counselling.
I can supply references if they are required in the future.
Education
University of Glasgow (2004-2008): Education with Teaching Qualification (Primary) MEd.
Conclusion
This CV example with interests illustrates that there can be times when mentioning your passions will increase the chances of acquiring a desired role. Once again, this sample revolves around the educational sector. There are countless additional formats and categories available on this website. Please browse through our other sections and gain insight into other options for structuring your CV.
Related CVs Teaching & Education CV Examples