Drama Teacher CV Example
One of the first things you need to consider when applying for jobs in drama education is a fully engaging CV. Not only must it accurately reflect your skills, abilities and experience, but it also needs to convey your passion for drama and teaching. By using a free drama teacher CV sample you can get the right format as well as ensuring nothing is missed out - helping you to land the right job for your career, no matter what stage you happen to be at in it. Using a sample is a good starting point to make your application stand out from many others and will help you to get your foot in the door.
Create This CVSee all templates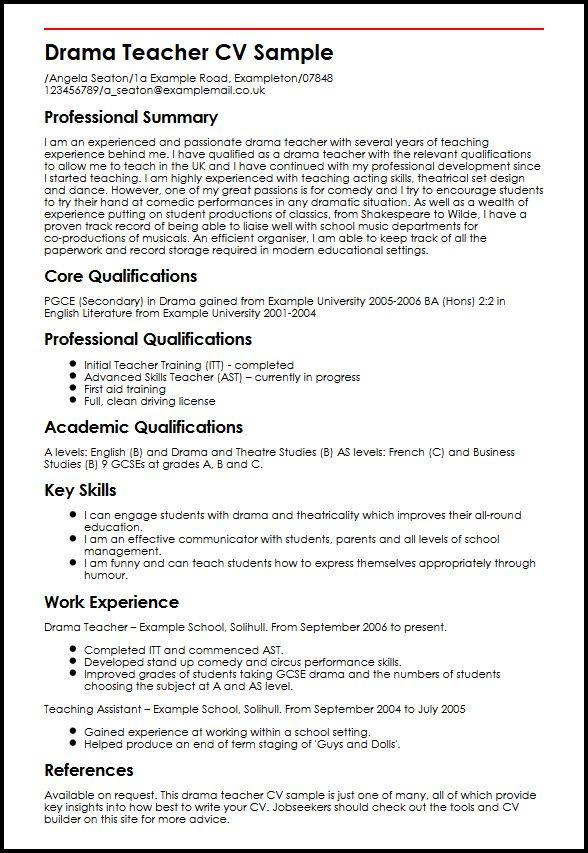 Build a professional CV that gets you hired.
Drama Teacher CV Sample/Angela Seaton/1a Example Road, Exampleton/07848 123456789/a_seaton@examplemail.co.uk
Professional Summary
I am an experienced and passionate drama teacher with several years of teaching experience behind me. I have qualified as a drama teacher with the relevant qualifications to allow me to teach in the UK and I have continued with my professional development since I started teaching. I am highly experienced with teaching acting skills, theatrical set design and dance. However, one of my great passions is for comedy and I try to encourage students to try their hand at comedic performances in any dramatic situation. As well as a wealth of experience putting on student productions of classics, from Shakespeare to Wilde, I have a proven track record of being able to liaise well with school music departments for co-productions of musicals. An efficient organiser, I am able to keep track of all the paperwork and record storage required in modern educational settings.
Core Qualifications
PGCE (Secondary) in Drama gained from Example University 2005-2006BA (Hons) 2:2 in English Literature from Example University 2001-2004
Professional Qualifications
Initial Teacher Training (ITT) - completed
Advanced Skills Teacher (AST) | currently in progress
First aid training
Full, clean driving license
Academic Qualifications
A levels: English (B) and Drama and Theatre Studies (B)AS levels: French (C) and Business Studies (B)9 GCSEs at grades A, B and C.
Key Skills
I can engage students with drama and theatricality which improves their all-round education.
I am an effective communicator with students, parents and all levels of school management.
I am funny and can teach students how to express themselves appropriately through humour.
Work Experience
Drama Teacher| Example School, Solihull. From September 2006 to present.
Completed ITT and commenced AST.
Developed stand up comedy and circus performance skills.
Improved grades of students taking GCSE drama and the numbers of students choosing the subject at A and AS level.
Teaching Assistant | Example School, Solihull. From September 2004 to July 2005
Gained experience at working within a school setting.
Helped produce an end of term staging of 'Guys and Dolls'.
References
Available on request.This drama teacher CV sample is just one of many, all of which provide key insights into how best to write your CV. Jobseekers should check out the tools and CV builder on this site for more advice.
Related CVs Teaching & Education CV Examples