Psychology Research Assistant CV Example
A professionally written CV is essential if you are looking to make a positive first impression on prospective employers. In this highly competitive field, candidates must be able to showcase their skills and the contribution they can make to their future employers. To this end, we have put together a psychology research assistant CV sample, which offers valuable insights into the format and content of a successful CV for professionals in this field.
Create This CVSee all templates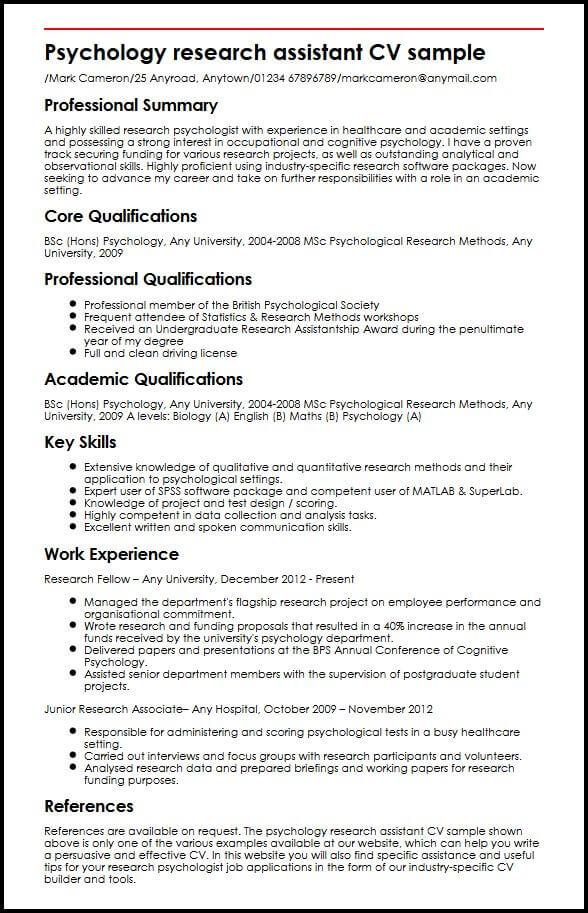 Build a professional CV that gets you hired.
Psychology research assistant CV sample/Mark Cameron/25 Anyroad, Anytown/01234 67896789/markcameron@anymail.com
Professional Summary
A highly skilled research psychologist with experience in healthcare and academic settings and possessing a strong interest in occupational and cognitive psychology. I have a proven track securing funding for various research projects, as well as outstanding analytical and observational skills. Highly proficient using industry-specific research software packages. Now seeking to advance my career and take on further responsibilities with a role in an academic setting.
Core Qualifications
BSc (Hons) Psychology, Any University, 2004-2008MSc Psychological Research Methods, Any University, 2009
Professional Qualifications
Professional member of the British Psychological Society
Frequent attendee of Statistics & Research Methods workshops
Received an Undergraduate Research Assistantship Award during the penultimate year of my degree
Full and clean driving license
Academic Qualifications
BSc (Hons) Psychology, Any University, 2004-2008MSc Psychological Research Methods, Any University, 2009A levels: Biology (A) English (B) Maths (B) Psychology (A)
Key Skills
Extensive knowledge of qualitative and quantitative research methods and their application to psychological settings.
Expert user of SPSS software package and competent user of MATLAB & SuperLab.
Knowledge of project and test design / scoring.
Highly competent in data collection and analysis tasks.
Excellent written and spoken communication skills.
Work Experience
Research Fellow | Any University, December 2012 - Present
Managed the department's flagship research project on employee performance and organisational commitment.
Wrote research and funding proposals that resulted in a 40% increase in the annual funds received by the university's psychology department.
Delivered papers and presentations at the BPS Annual Conference of Cognitive Psychology.
Assisted senior department members with the supervision of postgraduate student projects.
Junior Research Associate| Any Hospital, October 2009 | November 2012
Responsible for administering and scoring psychological tests in a busy healthcare setting.
Carried out interviews and focus groups with research participants and volunteers.
Analysed research data and prepared briefings and working papers for research funding purposes.
References
References are available on request.The psychology research assistant CV sample shown above is only one of the various examples available at our website, which can help you write a persuasive and effective CV. In this website you will also find specific assistance and useful tips for your research psychologist job applications in the form of our industry-specific CV builder and tools.
Related CVs Teaching & Education CV Examples