Chinese Teacher CV Example
If you are looking for a job as a Chinese teacher, it is important to create a CV that reflects your key skills and abilities and well as highlighting your main strengths. Using a free Chinese teacher CV sample as a template will help you to understand the kinds of information that should include in your own CV while also learning the best format to use.
Create This CVSee all templates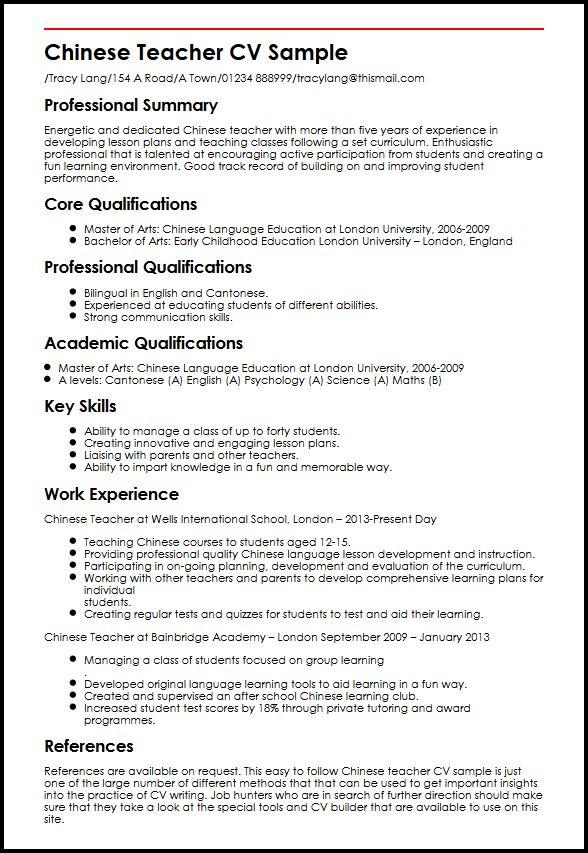 Build a professional CV that gets you hired.
Chinese Teacher CV Sample/Tracy Lang/154 A Road/A Town/01234 888999/tracylang@thismail.com
Professional Summary
Energetic and dedicated Chinese teacher with more than five years of experience in developing lesson plans and teaching classes following a set curriculum. Enthusiastic professional that is talented at encouraging active participation from students and creating a fun learning environment. Good track record of building on and improving student performance.
Core Qualifications
Master of Arts: Chinese Language Education at London University, 2006-2009
Bachelor of Arts: Early Childhood Education London University | London, England
Professional Qualifications
Bilingual in English and Cantonese.
Experienced at educating students of different abilities.
Strong communication skills.
Academic Qualifications
Master of Arts: Chinese Language Education at London University, 2006-2009
A levels: Cantonese (A) English (A) Psychology (A) Science (A) Maths (B)
Key Skills
Ability to manage a class of up to forty students.
Creating innovative and engaging lesson plans.
Liaising with parents and other teachers.
Ability to impart knowledge in a fun and memorable way.
Work Experience
Chinese Teacher at Wells International School, London | 2013-Present Day
Teaching Chinese courses to students aged 12-15.
Providing professional quality Chinese language lesson development and instruction.
Participating in on-going planning, development and evaluation of the curriculum.
Working with other teachers and parents to develop comprehensive learning plans for individual
students.
Creating regular tests and quizzes for students to test and aid their learning.
Chinese Teacher at Bainbridge Academy | London September 2009 | January 2013
Managing a class of students focused on group learning
.
Developed original language learning tools to aid learning in a fun way.
Created and supervised an after school Chinese learning club.
Increased student test scores by 18% through private tutoring and award programmes.
References
References are available on request.This easy to follow Chinese teacher CV sample is just one of the large number of different methods that that can be used to get important insights into the practice of CV writing. Job hunters who are in search of further direction should make sure that they take a look at the special tools and CV builder that are available to use on this site.
Related CVs Teaching & Education CV Examples