Nursery Teacher CV Example
In order to become employed as a nursery teacher, you will need to create a CV that accurately details your qualifications as well as your relevant employment experiences. Ideally, your CV will draw attention to your individual teaching strengths whilst also highlighting your transferable skills. By using our free sample nursery teacher CV sample, you will make sure that you include all of information expected in your application. This valuable tool will also help you to get the formatting right so that your CV is presented properly.
Create This CVSee all templates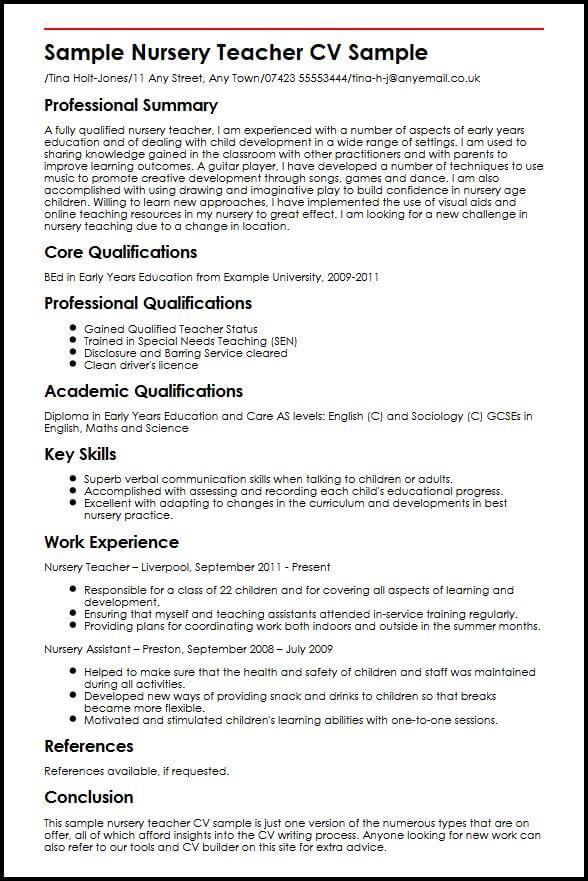 Build a professional CV that gets you hired.
Sample Nursery Teacher CV Sample/Tina Holt-Jones/11 Any Street, Any Town/07423 55553444/tina-h-j@anyemail.co.uk
Professional Summary
A fully qualified nursery teacher, I am experienced with a number of aspects of early years education and of dealing with child development in a wide range of settings. I am used to sharing knowledge gained in the classroom with other practitioners and with parents to improve learning outcomes. A guitar player, I have developed a number of techniques to use music to promote creative development through songs, games and dance. I am also accomplished with using drawing and imaginative play to build confidence in nursery age children. Willing to learn new approaches, I have implemented the use of visual aids and online teaching resources in my nursery to great effect. I am looking for a new challenge in nursery teaching due to a change in location.
Core Qualifications
BEd in Early Years Education from Example University, 2009-2011
Professional Qualifications
Gained Qualified Teacher Status
Trained in Special Needs Teaching (SEN)
Disclosure and Barring Service cleared
Clean driver's licence
Academic Qualifications
Diploma in Early Years Education and CareAS levels: English (C) and Sociology (C)GCSEs in English, Maths and Science
Key Skills
Superb verbal communication skills when talking to children or adults.
Accomplished with assessing and recording each child's educational progress.
Excellent with adapting to changes in the curriculum and developments in best nursery practice.
Work Experience
Nursery Teacher | Liverpool, September 2011 - Present
Responsible for a class of 22 children and for covering all aspects of learning and development.
Ensuring that myself and teaching assistants attended in-service training regularly.
Providing plans for coordinating work both indoors and outside in the summer months.
Nursery Assistant | Preston, September 2008 | July 2009
Helped to make sure that the health and safety of children and staff was maintained during all activities.
Developed new ways of providing snack and drinks to children so that breaks became more flexible.
Motivated and stimulated children's learning abilities with one-to-one sessions.
References
References available, if requested.
Conclusion
This sample nursery teacher CV sample is just one version of the numerous types that are on offer, all of which afford insights into the CV writing process. Anyone looking for new work can also refer to our tools and CV builder on this site for extra advice.
Related CVs Teaching & Education CV Examples