English Tutor CV Example
A professionally written CV is one of the most important tools for jobseekers looking to succeed in the English teaching field. Here you will find a useful English tutor CV sample that shows the most effective way of highlighting your teaching skills, knowledge, and experience. Feel free to use our English tutor CV sample to learn more about what you need to include in your CV in order to get yourself noticed among employers and to succeed in your job search.
Create This CVSee all templates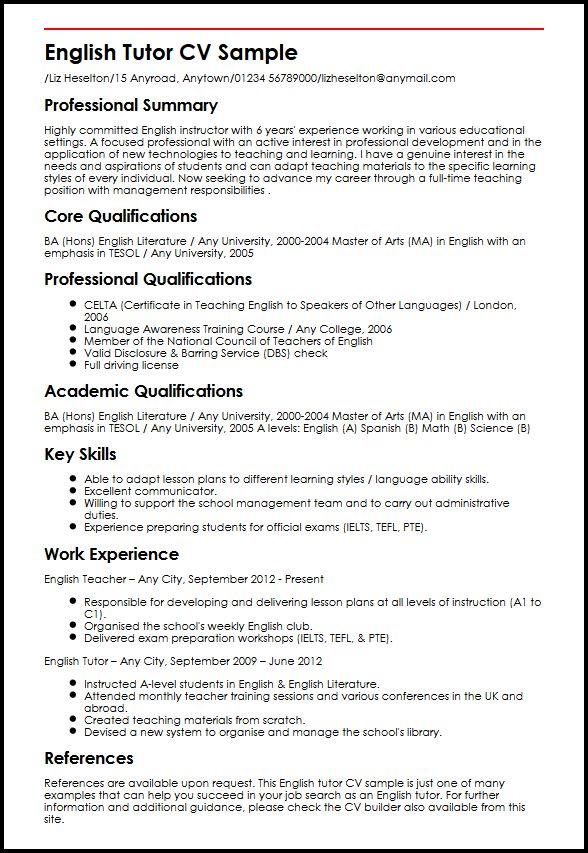 Build a professional CV that gets you hired.
English Tutor CV Sample /Liz Heselton/15 Anyroad, Anytown/01234 56789000/lizheselton@anymail.com
Professional Summary
Highly committed English instructor with 6 years' experience working in various educational settings. A focused professional with an active interest in professional development and in the application of new technologies to teaching and learning. I have a genuine interest in the needs and aspirations of students and can adapt teaching materials to the specific learning styles of every individual. Now seeking to advance my career through a full-time teaching position with management responsibilities .
Core Qualifications
BA (Hons) English Literature /Any University, 2000-2004Master of Arts (MA) in English with an emphasis in TESOL / Any University, 2005
Professional Qualifications
CELTA (Certificate in Teaching English to Speakers of Other Languages) / London, 2006
Language Awareness Training Course / Any College, 2006
Member of the National Council of Teachers of English
Valid Disclosure & Barring Service (DBS) check
Full driving license
Academic Qualifications
BA (Hons) English Literature /Any University, 2000-2004Master of Arts (MA) in English with an emphasis in TESOL / Any University, 2005A levels: English (A) Spanish (B) Math (B) Science (B)
Key Skills
Able to adapt lesson plans to different learning styles / language ability skills.
Excellent communicator.
Willing to support the school management team and to carry out administrative duties.
Experience preparing students for official exams (IELTS, TEFL, PTE).
Work Experience
English Teacher | Any City, September 2012 - Present
Responsible for developing and delivering lesson plans at all levels of instruction (A1 to C1).
Organised the school's weekly English club.
Delivered exam preparation workshops (IELTS, TEFL, & PTE).
English Tutor | Any City,September 2009 | June 2012
Instructed A-level students in English & English Literature.
Attended monthly teacher training sessions and various conferences in the UK and abroad.
Created teaching materials from scratch.
Devised a new system to organise and manage the school's library.
References
References are available upon request.This English tutor CV sample is just one of many examples that can help you succeed in your job search as an English tutor. For further information and additional guidance, please check the CV builder also available from this site.
Related CVs Teaching & Education CV Examples