Physical Education Teacher CV Example
There is plenty to consider when applying for a job in sports education and foremost among these will be a well-written CV. Ideally, the way you choose to express yourself will create a favourable impression with potential employers | highlighting your aptitudes, relevant experience and teaching abilities. In addition, a high-quality CV will also convey something of your enthusiasm for teaching PE in a way that leaps off the page. By adapting our free PE teacher CV sample for your own work history and educational background, it is possible to get the right tone of a standard format, which makes a CV easy to digest, along with what marks you out as an individual who has a passion for PE. A well put together CV will result in you being much better placed to land your dream job.
Create This CVSee all templates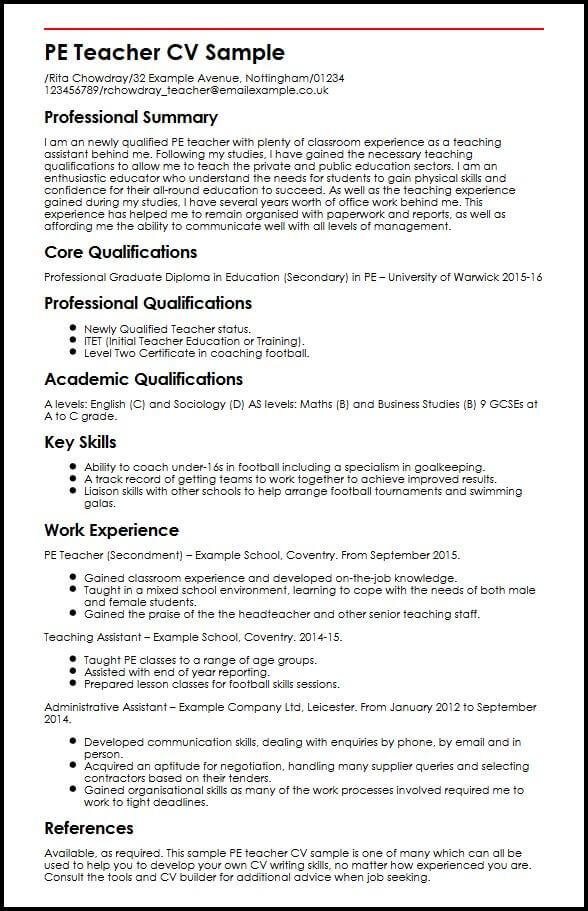 Build a professional CV that gets you hired.
PE Teacher CV Sample/Rita Chowdray/32 Example Avenue, Nottingham/01234 123456789/rchowdray_teacher@emailexample.co.uk
Professional Summary
I am an newly qualified PE teacher with plenty of classroom experience as a teaching assistant behind me. Following my studies, I have gained the necessary teaching qualifications to allow me to teach the private and public education sectors. I am an enthusiastic educator who understand the needs for students to gain physical skills and confidence for their all-round education to succeed. As well as the teaching experience gained during my studies, I have several years worth of office work behind me. This experience has helped me to remain organised with paperwork and reports, as well as affording me the ability to communicate well with all levels of management.
Core Qualifications
Professional Graduate Diploma in Education (Secondary) in PE | University of Warwick 2015-16
Professional Qualifications
Newly Qualified Teacher status.
ITET (Initial Teacher Education or Training).
Level Two Certificate in coaching football.
Academic Qualifications
A levels: English (C) and Sociology (D)AS levels: Maths (B) and Business Studies (B)9 GCSEs at A to C grade.
Key Skills
Ability to coach under-16s in football including a specialism in goalkeeping.
A track record of getting teams to work together to achieve improved results.
Liaison skills with other schools to help arrange football tournaments and swimming galas.
Work Experience
PE Teacher (Secondment)| Example School, Coventry. From September 2015.
Gained classroom experience and developed on-the-job knowledge.
Taught in a mixed school environment, learning to cope with the needs of both male and female students.
Gained the praise of the the headteacher and other senior teaching staff.
Teaching Assistant| Example School, Coventry. 2014-15.
Taught PE classes to a range of age groups.
Assisted with end of year reporting.
Prepared lesson classes for football skills sessions.
Administrative Assistant | Example Company Ltd, Leicester. From January 2012 to September 2014.
Developed communication skills, dealing with enquiries by phone, by email and in person.
Acquired an aptitude for negotiation, handling many supplier queries and selecting contractors based on their tenders.
Gained organisational skills as many of the work processes involved required me to work to tight deadlines.
References
Available, as required.This sample PE teacher CV sample is one of many which can all be used to help you to develop your own CV writing skills, no matter how experienced you are. Consult the tools and CV builder for additional advice when job seeking.
Related CVs Teaching & Education CV Examples