Chemistry Lecturer CV Example
The initial stage when writing a successful Academic CV for your job search is to put together a professional document that will target the job you're interested in, as well as showcase your most impressive qualifications, skills and experience. Before you get to work on your CV, looking through this Academic CV Sample will help you when it comes to what type of information to include and how to set this out. Recruitment managers look for those CVs that make a good impression, and following this example will help you to get to the top of the interview list.

Create This CVSee all templates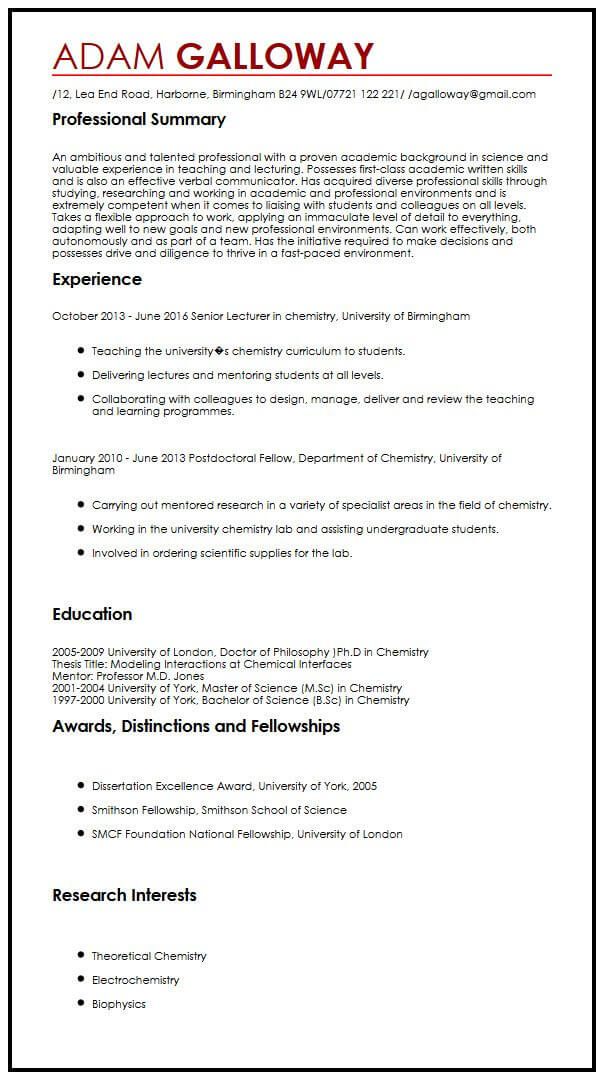 Build a professional CV that gets you hired.
/12, Lea End Road, Harborne, Birmingham B24 9WL/07721 122 221/ /agalloway@gmail.com
Professional Summary
An ambitious and talented professional with a proven academic background in science and valuable experience in teaching and lecturing. Possesses first-class academic written skills and is also an effective verbal communicator. Has acquired diverse professional skills through studying, researching and working in academic and professional environments and is extremely competent when it comes to liaising with students and colleagues on all levels. Takes a flexible approach to work, applying an immaculate level of detail to everything, adapting well to new goals and new professional environments. Can work effectively, both autonomously and as part of a team. Has the initiative required to make decisions and possesses drive and diligence to thrive in a fast-paced environment.
Experience
October 2013 - June 2016 Senior Lecturer in chemistry, University of Birmingham
Teaching the university's chemistry curriculum to students.
Delivering lectures and mentoring students at all levels.
Collaborating with colleagues to design, manage, deliver and review the teaching and learning programmes.
January 2010 - June 2013 Postdoctoral Fellow, Department of Chemistry, University of Birmingham
Carrying out mentored research in a variety of specialist areas in the field of chemistry.
Working in the university chemistry lab and assisting undergraduate students.
Involved in ordering scientific supplies for the lab.
Education
2005-2009 University of London, Doctor of Philosophy )Ph.D in ChemistryThesis Title: Modeling Interactions at Chemical InterfacesMentor: Professor M.D. Jones2001-2004 University of York, Master of Science (M.Sc) in Chemistry1997-2000 University of York, Bachelor of Science (B.Sc) in Chemistry
Awards, Distinctions and Fellowships
Dissertation Excellence Award, University of York, 2005
Smithson Fellowship, Smithson School of Science
SMCF Foundation National Fellowship, University of London
Research Interests
Theoretical Chemistry
Electrochemistry
Biophysics
Conclusion
This Academic CV Sample forms part of our extensive collection of CVs that are available for you to use to create your own professional CV. When searching for jobs, our CV builder and online tools are invaluable in providing you with the help and guidance you need for success.
Related CVs Teaching & Education CV Examples