Arabic Teacher CV Example
Your first step in developing a career in teaching Arabic is designing a powerful CV that accurately highlights your strengths, and clearly reflects your skills and abilities. Our free Arabic Teacher CV sample below will be a very useful tool to help you in getting insight into what to include in your CV. It also guides you in terms of the correct formatting that will grab the recruiters' attention.
Create This CVSee all templates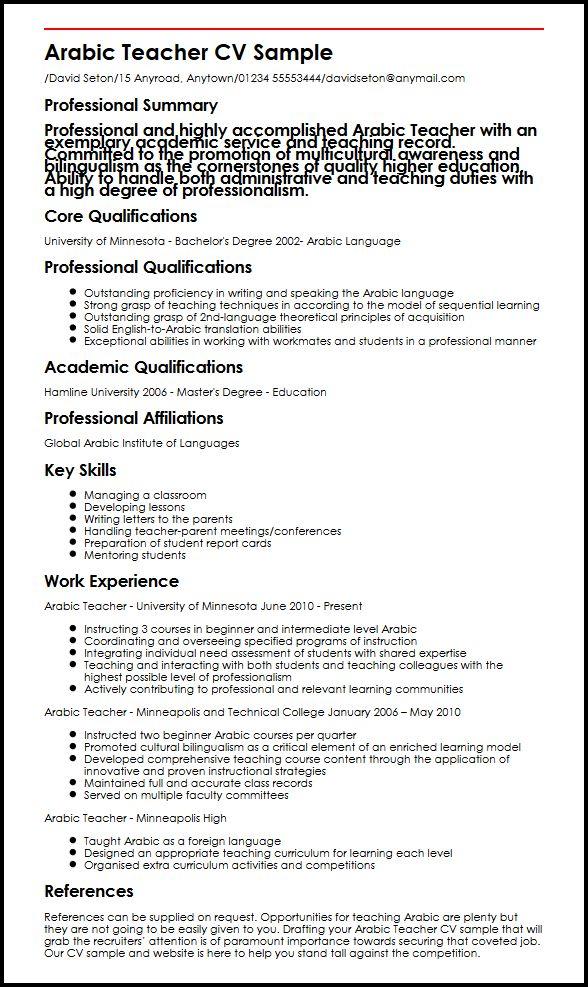 Build a professional CV that gets you hired.
Arabic Teacher CV Sample/David Seton/15 Anyroad, Anytown/01234 55553444/davidseton@anymail.com
Professional Summary
Professional and highly accomplished Arabic Teacher with an exemplary academic service and teaching record. Committed to the promotion of multicultural awareness and bilingualism as the cornerstones of quality higher education. Ability to handle both administrative and teaching duties with a high degree of professionalism.
Core Qualifications
University of Minnesota - Bachelor's Degree 2002- Arabic Language
Professional Qualifications
Outstanding proficiency in writing and speaking the Arabic language
Strong grasp of teaching techniques in according to the model of sequential learning
Outstanding grasp of 2nd-language theoretical principles of acquisition
Solid English-to-Arabic translation abilities
Exceptional abilities in working with workmates and students in a professional manner
Academic Qualifications
Hamline University 2006 - Master's Degree - Education
Professional Affiliations
Global Arabic Institute of Languages
Key Skills
Managing a classroom
Developing lessons
Writing letters to the parents
Handling teacher-parent meetings/conferences
Preparation of student report cards
Mentoring students
Work Experience
Arabic Teacher - University of Minnesota June 2010 - Present
Instructing 3 courses in beginner and intermediate level Arabic
Coordinating and overseeing specified programs of instruction
Integrating individual need assessment of students with shared expertise
Teaching and interacting with both students and teaching colleagues with the highest possible level of professionalism
Actively contributing to professional and relevant learning communities
Arabic Teacher - Minneapolis and Technical College January 2006 | May 2010
Instructed two beginner Arabic courses per quarter
Promoted cultural bilingualism as a critical element of an enriched learning model
Developed comprehensive teaching course content through the application of innovative and proven instructional strategies
Maintained full and accurate class records
Served on multiple faculty committees
Arabic Teacher - Minneapolis High
Taught Arabic as a foreign language
Designed an appropriate teaching curriculum for learning each level
Organised extra curriculum activities and competitions
References
References can be supplied on request.Opportunities for teaching Arabic are plenty but they are not going to be easily given to you. Drafting your Arabic Teacher CV sample that will grab the recruiters' attention is of paramount importance towards securing that coveted job. Our CV sample and website is here to help you stand tall against the competition.