Group Fitness Instructor CV Example
If you are planning to get a job as a group fitness instructor, it is essential to create a CV that perfectly reflects your key skills and abilities while also highlighting your main strengths. Using a free group fitness instructor CV sample as a template will help you to find out information that you need to add when you write your own CV and you can follow the format that has been set out here.
Create This CVSee all templates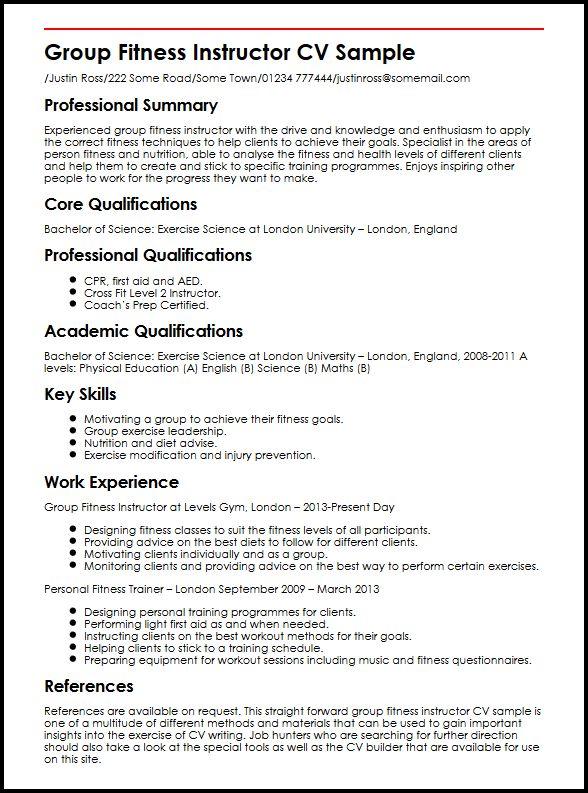 Build a professional CV that gets you hired.
Group Fitness Instructor CV Sample/Justin Ross/222 Some Road/Some Town/01234 777444/justinross@somemail.com
Professional Summary
Experienced group fitness instructor with the drive and knowledge and enthusiasm to apply the correct fitness techniques to help clients to achieve their goals. Specialist in the areas of person fitness and nutrition, able to analyse the fitness and health levels of different clients and help them to create and stick to specific training programmes. Enjoys inspiring other people to work for the progress they want to make.
Core Qualifications
Bachelor of Science: Exercise Science at London University | London, England
Professional Qualifications
CPR, first aid and AED.
Cross Fit Level 2 Instructor.
Coach's Prep Certified.
Academic Qualifications
Bachelor of Science: Exercise Science at London University | London, England, 2008-2011A levels: Physical Education (A) English (B) Science (B) Maths (B)
Key Skills
Motivating a group to achieve their fitness goals.
Group exercise leadership.
Nutrition and diet advise.
Exercise modification and injury prevention.
Work Experience
Group Fitness Instructor at Levels Gym, London | 2013-Present Day
Designing fitness classes to suit the fitness levels of all participants.
Providing advice on the best diets to follow for different clients.
Motivating clients individually and as a group.
Monitoring clients and providing advice on the best way to perform certain exercises.
Personal Fitness Trainer | London September 2009 | March 2013
Designing personal training programmes for clients.
Performing light first aid as and when needed.
Instructing clients on the best workout methods for their goals.
Helping clients to stick to a training schedule.
Preparing equipment for workout sessions including music and fitness questionnaires.
References
References are available on request.This straight forward group fitness instructor CV sample is one of a multitude of different methods and materials that can be used to gain important insights into the exercise of CV writing. Job hunters who are searching for further direction should also take a look at the special tools as well as the CV builder that are available for use on this site.
Related CVs Fitness nutrition