Strength Conditioning Coach CV Example
A good CV should jump off the page. It presents an opportunity for you to sell yourself to a prospective employer by setting out your qualifications, experience and achievements to date, tell them something about your personality too. Write your strength and conditioning coach CV sample in a way that really shows what you have to offer. Search the net for other CVs and look at as many as you can to see how they have been set out. What follows is just one such example of a strength and conditioning coach CV likely to catch the attention of a recruiting manager.
Create This CVSee all templates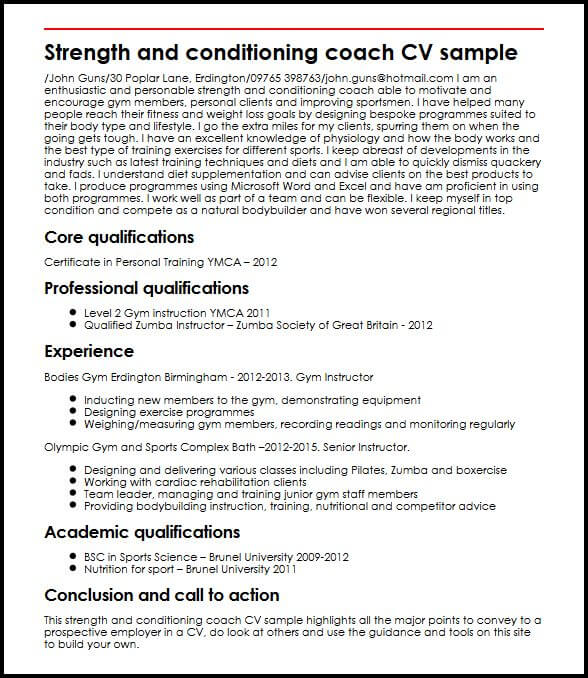 Build a professional CV that gets you hired.
Strength and conditioning coach CV sample/John Guns/30 Poplar Lane, Erdington/09765 398763/john.guns@hotmail.comI am an enthusiastic and personable strength and conditioning coach able to motivate and encourage gym members, personal clients and improving sportsmen. I have helped many people reach their fitness and weight loss goals by designing bespoke programmes suited to their body type and lifestyle. I go the extra miles for my clients, spurring them on when the going gets tough. I have an excellent knowledge of physiology and how the body works and the best type of training exercises for different sports. I keep abreast of developments in the industry such as latest training techniques and diets and I am able to quickly dismiss quackery and fads. I understand diet supplementation and can advise clients on the best products to take. I produce programmes using Microsoft Word and Excel and have am proficient in using both programmes. I work well as part of a team and can be flexible. I keep myself in top condition and compete as a natural bodybuilder and have won several regional titles.
Core qualifications
Certificate in Personal Training YMCA | 2012
Professional qualifications
Level 2 Gym instruction YMCA 2011
Qualified Zumba Instructor | Zumba Society of Great Britain - 2012
Experience
Bodies Gym Erdington Birmingham - 2012-2013. Gym Instructor
Inducting new members to the gym, demonstrating equipment
Designing exercise programmes
Weighing/measuring gym members, recording readings and monitoring regularly
Olympic Gym and Sports Complex Bath |2012-2015.Senior Instructor.
Designing and delivering various classes including Pilates, Zumba and boxercise
Working with cardiac rehabilitation clients
Team leader, managing and training junior gym staff members
Providing bodybuilding instruction, training, nutritional and competitor advice
Academic qualifications
BSC in Sports Science | Brunel University 2009-2012
Nutrition for sport | Brunel University 2011
Conclusion and call to action
This strength and conditioning coach CV sample highlights all the major points to convey to a prospective employer in a CV, do look at others and use the guidance and tools on this site to build your own.
Related CVs Fitness nutrition