Chief Accountant CV Example
The road to your new dream job starts with crafting the ideal CV, to show employers that you're serious and a good choice. Getting this right can be tricky, so feel free to use our free chief accountant CV sample to start the process. From here, you can write a strong CV with a smart, eye-catching layout that will kick start your new career.
Create This CVSee all templates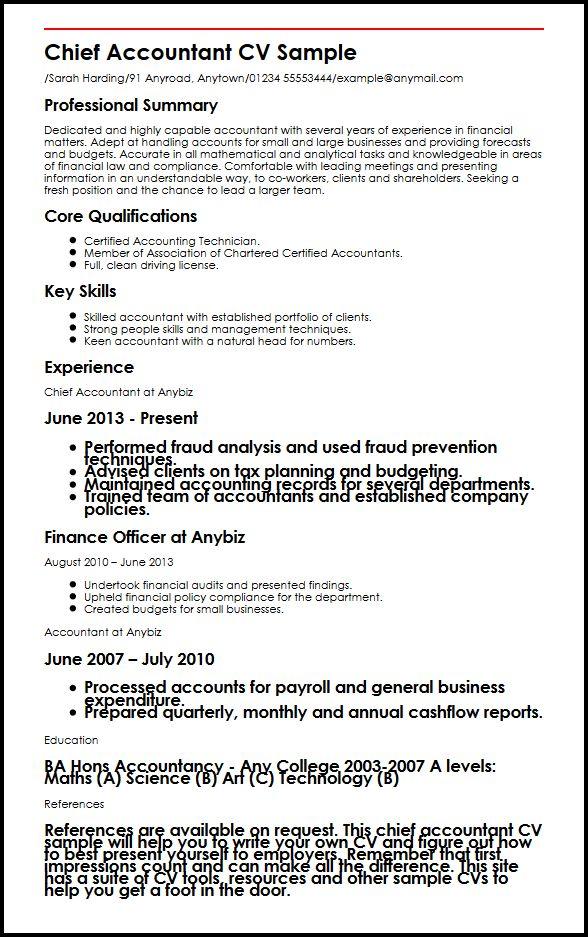 Build a professional CV that gets you hired.
Chief Accountant CV Sample/Sarah Harding/91 Anyroad, Anytown/01234 55553444/example@anymail.com
Professional Summary
Dedicated and highly capable accountant with several years of experience in financial matters. Adept at handling accounts for small and large businesses and providing forecasts and budgets. Accurate in all mathematical and analytical tasks and knowledgeable in areas of financial law and compliance. Comfortable with leading meetings and presenting information in an understandable way, to co-workers, clients and shareholders. Seeking a fresh position and the chance to lead a larger team.
Core Qualifications
Certified Accounting Technician.
Member of Association of Chartered Certified Accountants.
Full, clean driving license.
Key Skills
Skilled accountant with established portfolio of clients.
Strong people skills and management techniques.
Keen accountant with a natural head for numbers.
Experience
Chief Accountant at Anybiz
June 2013 - Present

Performed fraud analysis and used fraud prevention techniques.
Advised clients on tax planning and budgeting.
Maintained accounting records for several departments.
Trained team of accountants and established company policies.

Finance Officer at Anybiz
August 2010 | June 2013
Undertook financial audits and presented findings.
Upheld financial policy compliance for the department.
Created budgets for small businesses.
Accountant at Anybiz
June 2007 | July 2010

Processed accounts for payroll and general business expenditure.
Prepared quarterly, monthly and annual cashflow reports.
Education
BA Hons Accountancy - Any College 2003-2007A levels: Maths (A) Science (B) Art (C) Technology (B)
References
References are available on request.This chief accountant CV sample will help you to write your own CV and figure out how to best present yourself to employers. Remember that first impressions count and can make all the difference. This site has a suite of CV tools, resources and other sample CVs to help you get a foot in the door.