Management Accountant CV Example
The best place to start when you want to develop and further your career in the financial sector as a management accountant is to design a good CV that stands out, positively highlighting all your key strengths. It must clearly reflect your financial management abilities and skills. Our Management Accountant CV sample which is freely available is a great tool developed to help you with useful insights about what you need to include in your resume. It also gives tips on the best CV formatting style so that you grab the attention of recruiters instantly.
Create This CVSee all templates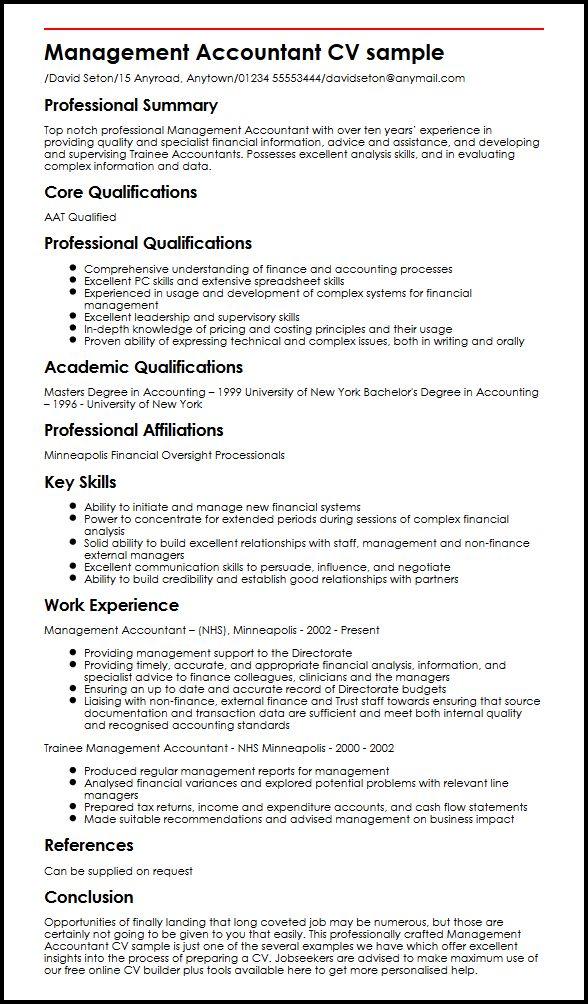 Build a professional CV that gets you hired.
Management Accountant CV sample /David Seton/15 Anyroad, Anytown/01234 55553444/davidseton@anymail.com
Professional Summary
Top notch professional Management Accountant with over ten years' experience in providing quality and specialist financial information, advice and assistance, and developing and supervising Trainee Accountants. Possesses excellent analysis skills, and in evaluating complex information and data.
Core Qualifications
AAT Qualified
Professional Qualifications
Comprehensive understanding of finance and accounting processes
Excellent PC skills and extensive spreadsheet skills
Experienced in usage and development of complex systems for financial management
Excellent leadership and supervisory skills
In-depth knowledge of pricing and costing principles and their usage
Proven ability of expressing technical and complex issues, both in writing and orally
Academic Qualifications
Masters Degree in Accounting | 1999 University of New YorkBachelor's Degree in Accounting | 1996 - University of New York
Professional Affiliations
Minneapolis Financial Oversight Processionals
Key Skills
Ability to initiate and manage new financial systems
Power to concentrate for extended periods during sessions of complex financial analysis
Solid ability to build excellent relationships with staff, management and non-finance external managers
Excellent communication skills to persuade, influence, and negotiate
Ability to build credibility and establish good relationships with partners
Work Experience
Management Accountant | (NHS), Minneapolis - 2002 - Present
Providing management support to the Directorate
Providing timely, accurate, and appropriate financial analysis, information, and specialist advice to finance colleagues, clinicians and the managers
Ensuring an up to date and accurate record of Directorate budgets
Liaising with non-finance, external finance and Trust staff towards ensuring that source documentation and transaction data are sufficient and meet both internal quality and recognised accounting standards
Trainee Management Accountant - NHS Minneapolis - 2000 - 2002
Produced regular management reports for management
Analysed financial variances and explored potential problems with relevant line managers
Prepared tax returns, income and expenditure accounts, and cash flow statements
Made suitable recommendations and advised management on business impact
References
Can be supplied on request
Conclusion
Opportunities of finally landing that long coveted job may be numerous, but those are certainly not going to be given to you that easily. This professionally crafted Management Accountant CV sample is just one of the several examples we have which offer excellent insights into the process of preparing a CV. Jobseekers are advised to make maximum use of our free online CV builder plus tools available here to get more personalised help.