Accounts Payable Manager CV Example
An accounts payable manager is one of the most important roles within any organisation.He or she is responsible for numerous metrics such as providing the proper documentation, adhering to the relevant regulations, making certain that paperwork is filed on time and overseeing internal revenue matters.Not only will an applicant require a great deal of experience, but presenting a well-formatted CV is critical from the point of view of an employer.Our professional accounts payable manager objectives CV sample is intended to highlight some of the main points to take into account as well as to offer a rough template.
Create This CVSee all templates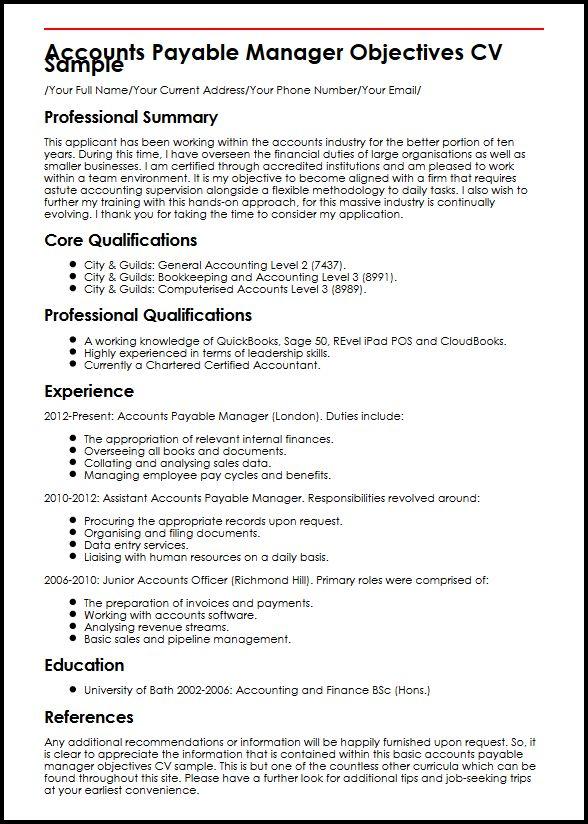 Build a professional CV that gets you hired.
Accounts Payable Manager Objectives CV Sample/Your Full Name/Your Current Address/Your Phone Number/Your Email/
Professional Summary
This applicant has been working within the accounts industry for the better portion of ten years.During this time, I have overseen the financial duties of large organisations as well as smaller businesses.I am certified through accredited institutions and am pleased to work within a team environment.It is my objective to become aligned with a firm that requires astute accounting supervision alongside a flexible methodology to daily tasks.I also wish to further my training with this hands-on approach, for this massive industry is continually evolving.I thank you for taking the time to consider my application.
Core Qualifications
City & Guilds: General Accounting Level 2 (7437).
City & Guilds: Bookkeeping and Accounting Level 3 (8991).
City & Guilds: Computerised Accounts Level 3 (8989).
Professional Qualifications
A working knowledge of QuickBooks, Sage 50, REvel iPad POS and CloudBooks.
Highly experienced in terms of leadership skills.
Currently a Chartered Certified Accountant.
Experience
2012-Present: Accounts Payable Manager (London).Duties include:
The appropriation of relevant internal finances.
Overseeing all books and documents.
Collating and analysing sales data.
Managing employee pay cycles and benefits.
2010-2012: Assistant Accounts Payable Manager.Responsibilities revolved around:
Procuring the appropriate records upon request.
Organising and filing documents.
Data entry services.
Liaising with human resources on a daily basis.
2006-2010: Junior Accounts Officer (Richmond Hill).Primary roles were comprised of:
The preparation of invoices and payments.
Working with accounts software.
Analysing revenue streams.
Basic sales and pipeline management.
Education
University of Bath 2002-2006: Accounting and Finance BSc (Hons.)
References
Any additional recommendations or information will be happily furnished upon request.So, it is clear to appreciate the information that is contained within this basic accounts payable manager objectives CV sample.This is but one of the countless other curricula which can be found throughout this site.Please have a further look for additional tips and job-seeking trips at your earliest convenience.