Home Care Assistant CV Example
Using our free home care assistant CV sample, you can begin building a career history from before the day you complete your formal education. Including similar information in your home care assistant CV sample will stand you in good stead when applying for new placements.
Create This CVSee all templates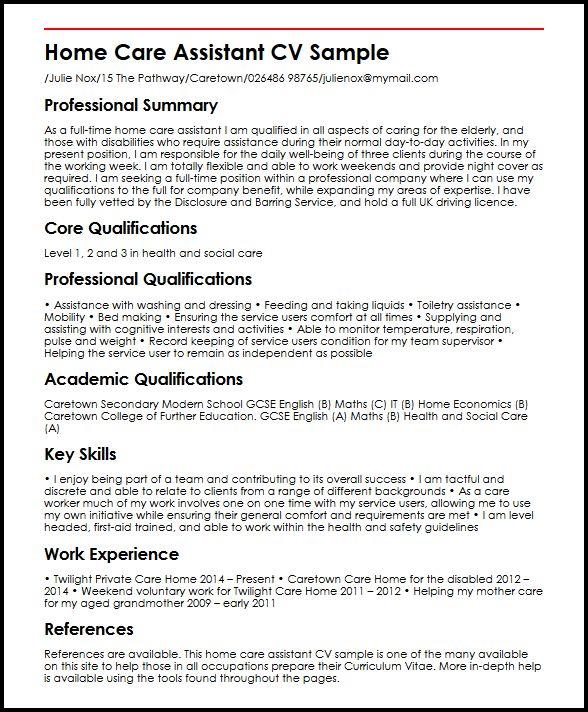 Build a professional CV that gets you hired.
Home Care Assistant CV Sample/Julie Nox/15 The Pathway/Caretown/026486 98765/julienox@mymail.com
Professional Summary
As a full-time home care assistant I am qualified in all aspects of caring for the elderly, and those with disabilities who require assistance during their normal day-to-day activities. In my present position, I am responsible for the daily well-being of three clients during the course of the working week.I am totally flexible and able to work weekends and provide night cover as required. I am seeking a full-time position within a professional company where I can use my qualifications to the full for company benefit, while expanding my areas of expertise. I have been fully vetted by the Disclosure and Barring Service, and hold a full UK driving licence.
Core Qualifications
Level 1, 2 and 3 in health and social care
Professional Qualifications

• Assistance withwashing and dressing
• Feeding and taking liquids
• Toiletry assistance
• Mobility
• Bed making
• Ensuring the service users comfort at all times
• Supplying and assisting with cognitive interests and activities
•Able to monitor temperature, respiration, pulse and weight
• Record keeping of service users condition for my team supervisor
• Helping the service user to remain as independent as possible
Academic Qualifications
Caretown Secondary Modern School GCSE English (B) Maths (C) IT (B) Home Economics (B)Caretown College of Further Education.GCSE English (A) Maths (B) Health and Social Care (A)
Key Skills

• I enjoy being part of a team and contributing to its overall success
• I am tactful and discrete and able to relate to clients from a range of different backgrounds
•As a care worker much of my work involves one on one time with my service users, allowing me to use my own initiative whileensuring their general comfort and requirements are met
•I am level headed, first-aid trained, and able to work within the health and safety guidelines
Work Experience

• Twilight Private Care Home2014 | Present
• Caretown Care Home for the disabled2012 | 2014
• Weekend voluntary work for Twilight Care Home2011 | 2012
• Helping my mother care for my aged grandmother2009 | early 2011
References
References are available.This home care assistant CV sample is one of the many available on this site to help those in all occupations prepare their Curriculum Vitae. More in-depth help is available using the tools found throughout the pages.