Care Home Manager CV Example
A care manager's job is a demanding role and you'll need to show off your skills, qualifications and experience in a professional manner. This can be taxing and difficult to achieve without the help of our online care home manager CV sample that's free and at your fingertips. With the help of the professional language and format contained within the sample, your application will make a strong impression on the manager shortlisting candidates for interview, giving you the best chances of being in with the select few.
Create This CVSee all templates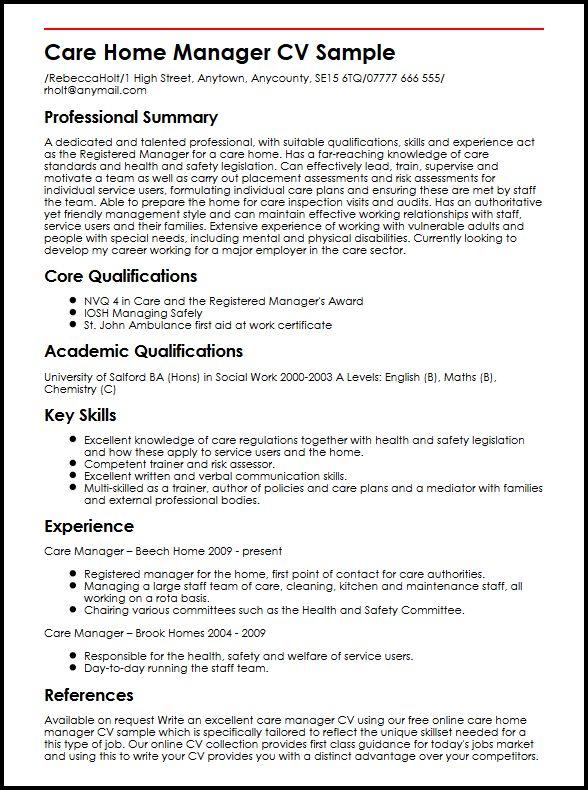 Build a professional CV that gets you hired.
Care Home Manager CV Sample/RebeccaHolt/1 High Street, Anytown, Anycounty, SE15 6TQ/07777 666 555/ rholt@anymail.com
Professional Summary
A dedicated and talented professional, with suitable qualifications, skills and experience act as the Registered Manager for a care home. Has a far-reaching knowledge of care standards and health and safety legislation. Can effectively lead, train, supervise and motivate a team as well as carry out placement assessments and risk assessments for individual service users, formulating individual care plans and ensuring these are met by staff the team. Able to prepare the home for care inspection visits and audits. Has an authoritative yet friendly management style and can maintain effective working relationships with staff, service users and their families. Extensive experience of working with vulnerable adults and people with special needs, including mental and physical disabilities. Currently looking to develop my career working for a major employer in the care sector.
Core Qualifications
NVQ 4 in Care and the Registered Manager's Award
IOSH Managing Safely
St. John Ambulance first aid at work certificate
Academic Qualifications
University of Salford BA (Hons) in Social Work 2000-2003A Levels: English (B), Maths (B), Chemistry (C)
Key Skills
Excellent knowledge of care regulations together with health and safety legislation and how these apply to service users and the home.
Competent trainer and risk assessor.
Excellent written and verbal communication skills.
Multi-skilled as a trainer, author of policies and care plans and a mediator with families and external professional bodies.
Experience
Care Manager | Beech Home 2009 - present
Registered manager for the home, first point of contact for care authorities.
Managing a large staff team of care, cleaning, kitchen and maintenance staff, all working on a rota basis.
Chairing various committees such as the Health and Safety Committee.
Care Manager | Brook Homes 2004 - 2009
Responsible for the health, safety and welfare of service users.
Day-to-day running the staff team.
References
Available on requestWrite an excellent care manager CV using our free online care home manager CV sample which is specifically tailored to reflect the unique skillset needed for a this type of job. Our online CV collection provides first class guidance for today's jobs market and using this to write your CV provides you with a distinct advantage over your competitors.
Related CVs Social Services CV Examples