Community Development Worker CV Example
If you are looking to advance your career as a community development worker, it is absolutely essential that your CV describes how and why you are a valuable asset to prospective employers. Writing a truly compelling CV requires an understanding of the kind of skills and achievements that can make a positive impression on employers. To help you succeed with CV writing, we have created a free community development worker CV sample, where you will find clear and targeted information on how you can turn your job search into a success story and get beyond the short-listing stage.
Create This CVSee all templates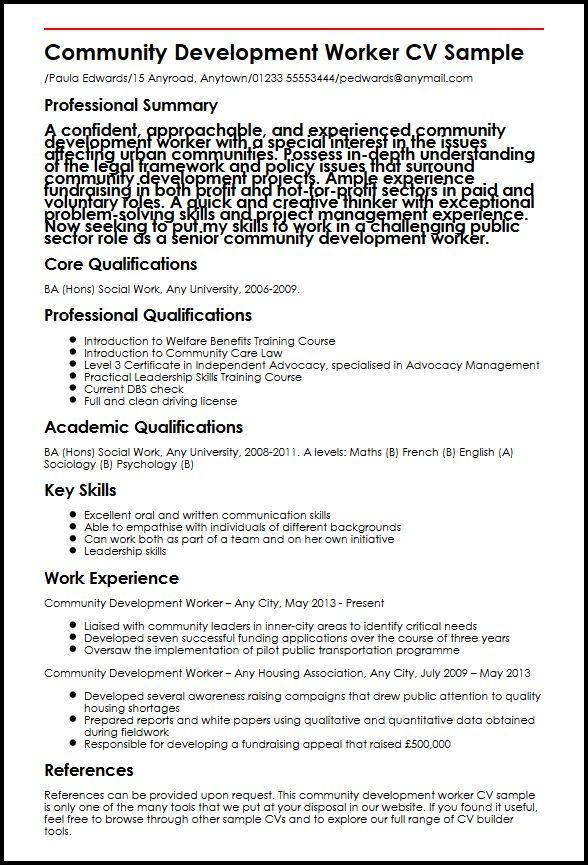 Build a professional CV that gets you hired.
Community Development Worker CV Sample/Paula Edwards/15 Anyroad, Anytown/01233 55553444/pedwards@anymail.com
Professional Summary
A confident, approachable, and experienced community development worker with a special interest in the issues affecting urban communities. Possess in-depth understanding of the legal framework and policy issues that surround community development projects. Ample experience fundraising in both profit and not-for-profit sectors in paid and voluntary roles. A quick and creative thinker with exceptional problem-solving skills and project management experience. Now seeking to put my skills to work in a challenging public sector role as a senior community development worker.
Core Qualifications
BA (Hons) Social Work, Any University, 2006-2009.
Professional Qualifications
Introduction to Welfare Benefits Training Course
Introduction to Community Care Law
Level 3 Certificate in Independent Advocacy, specialised in Advocacy Management
Practical Leadership Skills Training Course
Current DBS check
Full and clean driving license
Academic Qualifications
BA (Hons) Social Work, Any University, 2008-2011.A levels: Maths (B) French (B) English (A) Sociology (B) Psychology (B)
Key Skills
Excellent oral and written communication skills
Able to empathise with individuals of different backgrounds
Can work both as part of a team and on her own initiative
Leadership skills
Work Experience
Community Development Worker | Any City, May 2013 - Present
Liaised with community leaders in inner-city areas to identify critical needs
Developed seven successful funding applications over the course of three years
Oversaw the implementation of pilot public transportation programme
Community Development Worker | Any Housing Association, Any City, July 2009 | May 2013
Developed several awareness raising campaigns that drew public attention to quality housing shortages
Prepared reports and white papers using qualitative and quantitative data obtained during fieldwork
Responsible for developing a fundraising appeal that raised £500,000
References
References can be provided upon request.This community development worker CV sample is only one of the many tools that we put at your disposal in our website. If you found it useful, feel free to browse through other sample CVs and to explore our full range of CV builder tools.
Related CVs Social Services CV Examples