Counsellor CV Example
You have put a considerable amount of time an effort into becoming a qualified counsellor, so when it comes to standing out in the eyes of prospective employers, it is crucial that your CV highlights how your drive, personal qualities, and professional demeanour can add value to their company. In order to set yourself apart from the rest of candidates, you need to possess an in-depth understanding of the skills and qualities that employers consider valuable. This free counsellor CV sample has been designed to assist you during the process of writing your CV, so that you avoid common pitfalls and have higher chances of landing the job you are qualified to do.
Create This CVSee all templates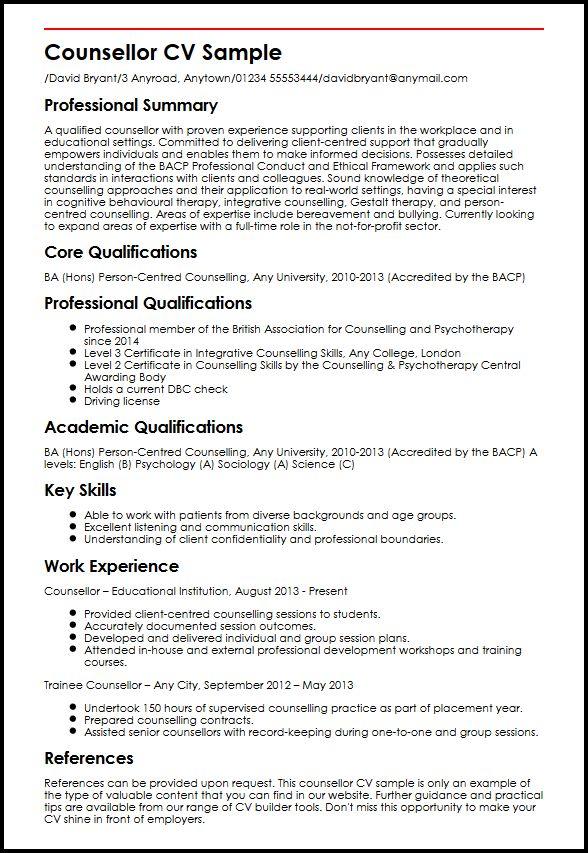 Build a professional CV that gets you hired.
Counsellor CV Sample/David Bryant/3 Anyroad, Anytown/01234 55553444/davidbryant@anymail.com
Professional Summary
A qualified counsellor with proven experience supporting clients in the workplace and in educational settings. Committed to delivering client-centred support that gradually empowers individuals and enables them to make informed decisions. Possesses detailed understanding of the BACP Professional Conduct and Ethical Framework and applies such standards in interactions with clients and colleagues. Sound knowledge of theoretical counselling approaches and their application to real-world settings, having a special interest in cognitive behavioural therapy, integrative counselling, Gestalt therapy, and person-centred counselling. Areas of expertise include bereavement and bullying. Currently looking to expand areas of expertise with a full-time role in the not-for-profit sector.
Core Qualifications
BA (Hons) Person-Centred Counselling, Any University, 2010-2013 (Accredited by the BACP)
Professional Qualifications
Professional member of the British Association for Counselling and Psychotherapy since 2014
Level 3 Certificate in Integrative Counselling Skills, Any College, London
Level 2 Certificate in Counselling Skills by the Counselling & Psychotherapy Central Awarding Body
Holds a current DBC check
Driving license
Academic Qualifications
BA (Hons) Person-Centred Counselling, Any University, 2010-2013 (Accredited by the BACP)A levels: English (B) Psychology (A) Sociology (A) Science (C)
Key Skills
Able to work with patients from diverse backgrounds and age groups.
Excellent listening and communication skills.
Understanding of client confidentiality and professional boundaries.
Work Experience
Counsellor | Educational Institution, August 2013 - Present
Provided client-centred counselling sessions to students.
Accurately documented session outcomes.
Developed and delivered individual and group session plans.
Attended in-house and external professional development workshops and training courses.
Trainee Counsellor | Any City, September 2012 | May 2013
Undertook 150 hours of supervised counselling practice as part of placement year.
Prepared counselling contracts.
Assisted senior counsellors with record-keeping during one-to-one and group sessions.
References
References can be provided upon request.This counsellor CV sample is only an example of the type of valuable content that you can find in our website. Further guidance and practical tips are available from our range of CV builder tools. Don't miss this opportunity to make your CV shine in front of employers.
Related CVs Social Services CV Examples