Disability Support Worker CV Example
The first step in applying for a disability support worker job is to create a CV that highlights your strengths and accurately documents your qualifications, talents and experience. Our free disability support worker CV sample is an invaluable tool that gives you an insight into what information you should include and how to format your CV.
Create This CVSee all templates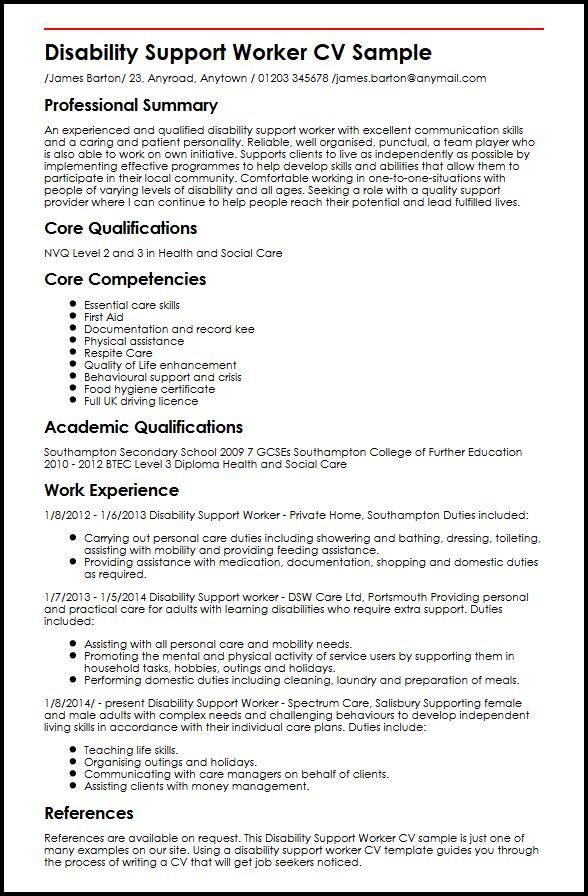 Build a professional CV that gets you hired.
Disability Support Worker CV Sample/James Barton/ 23, Anyroad, Anytown / 01203 345678 /james.barton@anymail.com
Professional Summary
An experienced and qualified disability support worker with excellent communication skills anda caring and patient personality. Reliable, well organised, punctual, a team player who is also able to work on own initiative. Supports clients to live as independently as possible by implementing effective programmes to help develop skills and abilities that allow them to participate in their localcommunity. Comfortable working in one-to-one-situations with people of varyinglevels of disability and all ages. Seeking a role with a quality support provider where I can continue to help people reach their potential and lead fulfilled lives.
Core Qualifications
NVQ Level 2 and 3 in Health and Social Care
Core Competencies
Essential care skills
First Aid
Documentation and record kee
Physical assistance
Respite Care
Quality of Life enhancement
Behavioural support and crisis
Food hygiene certificate
Full UK driving licence
Academic Qualifications
Southampton Secondary School 20097 GCSEsSouthampton College of Further Education2010 - 2012 BTEC Level 3 Diploma Health and Social Care
Work Experience
1/8/2012 -1/6/2013 Disability Support Worker - Private Home, SouthamptonDuties included:
Carryingout personal care duties including showering and bathing, dressing, toileting, assisting with mobility and providing feeding assistance.
Providing assistance with medication, documentation, shopping and domestic duties as required.
1/7/2013 - 1/5/2014Disability Support worker - DSW Care Ltd, PortsmouthProviding personal and practical care for adults with learning disabilities who require extra support.Duties included:
Assisting with all personal care and mobility needs.
Promoting the mental and physical activity of service users by supporting them in household tasks, hobbies, outings and holidays.
Performing domestic duties including cleaning, laundry and preparation of meals.
1/8/2014/ - present Disability Support Worker - Spectrum Care, SalisburySupporting female and male adults with complex needs and challenging behaviours to develop independent living skills in accordance with their individual care plans.Duties include:
Teaching life skills.
Organising outings and holidays.
Communicating with care managers on behalf of clients.
Assisting clients with money management.
References
References are available on request.This Disability Support Worker CV sample is just one of many examples on our site. Using a disability support worker CV template guides you through the process of writing a CV that will get job seekers noticed.
Related CVs Social Services CV Examples