Humanitarian Aid Worker CV Example
You can kick start your brand new career today, by getting a little help with that tricky first step: your CV. Use our free humanitarian aid worker CV sample as a framework to get you started, with a sample layout and inspiration for your personal summary. Tailor this to your needs and then you can focus on selling yourself and starting your new role.
Create This CVSee all templates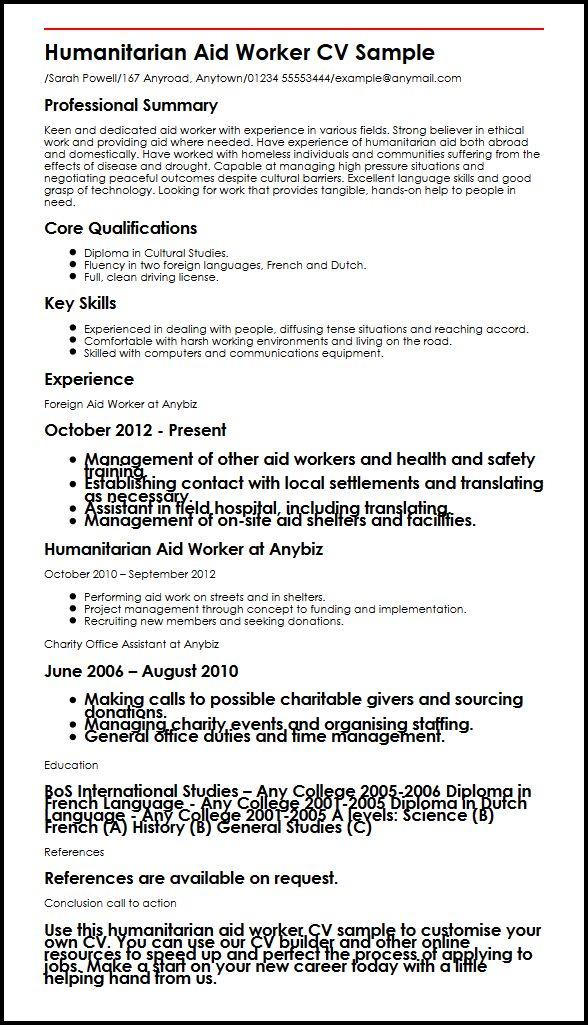 Build a professional CV that gets you hired.
Humanitarian Aid Worker CV Sample/Sarah Powell/167 Anyroad, Anytown/01234 55553444/example@anymail.com
Professional Summary
Keen and dedicated aid worker with experience in various fields. Strong believer in ethical work and providing aid where needed. Have experience of humanitarian aid both abroad and domestically. Have worked with homeless individuals and communities suffering from the effects of disease and drought. Capable at managing high pressure situations and negotiating peaceful outcomes despite cultural barriers. Excellent language skills and good grasp of technology. Looking for work that provides tangible, hands-on help to people in need.
Core Qualifications
Diploma in Cultural Studies.
Fluency in two foreign languages, French and Dutch.
Full, clean driving license.
Key Skills
Experienced in dealing with people, diffusing tense situations and reaching accord.
Comfortable with harsh working environments and living on the road.
Skilled with computers and communications equipment.
Experience
Foreign Aid Worker at Anybiz
October 2012 - Present

Management of other aid workers and health and safety training.
Establishing contact with local settlements and translating as necessary.
Assistant in field hospital, including translating.
Management of on-site aid shelters and facilities.

Humanitarian Aid Worker at Anybiz
October 2010 | September 2012
Performing aid work on streets and in shelters.
Project management through concept to funding and implementation.
Recruiting new members and seeking donations.
Charity Office Assistant at Anybiz
June 2006 | August 2010

Making calls to possible charitable givers and sourcing donations.
Managing charity events and organising staffing.
General office duties and time management.
Education
BoS International Studies | Any College 2005-2006Diploma in French Language - Any College 2001-2005Diploma in Dutch Language - Any College 2001-2005A levels: Science (B) French (A) History (B) General Studies (C)
References
References are available on request.
Conclusion call to action
Use this humanitarian aid worker CV sample to customise your own CV. You can use our CV builder and other online resources to speed up and perfect the process of applying to jobs. Make a start on your new career today with a little helping hand from us.
Related CVs Social Services CV Examples