Child Youth Worker CV Example
The important first step towards getting a job as a child and youth worker is writing a CV that reflects your key skills and abilities while also highlighting your strengths. Using a free child and youth worker CV sample is a great way to gain insight into the types of information that you need to include and the way to format your CV.
Create This CVSee all templates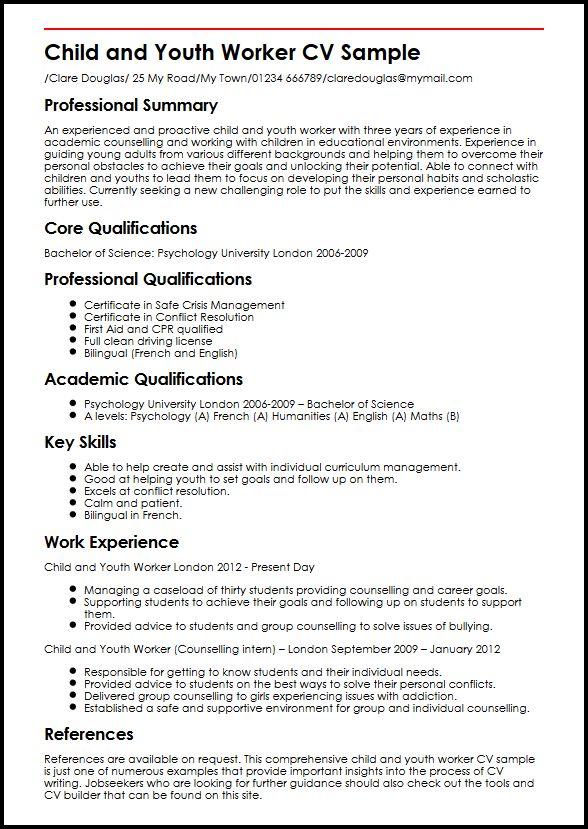 Build a professional CV that gets you hired.
Child and Youth Worker CV Sample/Clare Douglas/ 25 My Road/My Town/01234 666789/claredouglas@mymail.com
Professional Summary
An experienced and proactive child and youth worker with three years of experience in academic counselling and working with children in educational environments. Experience in guiding young adults from various different backgrounds and helping them to overcome their personal obstacles to achieve their goals and unlocking their potential. Able to connect with children and youths to lead them to focus on developing their personal habits and scholastic abilities. Currently seeking a new challenging role to put the skills and experience earned to further use.
Core Qualifications
Bachelor of Science: Psychology University London 2006-2009
Professional Qualifications
Certificate in Safe Crisis Management
Certificate in Conflict Resolution
First Aid and CPR qualified
Full clean driving license
Bilingual (French and English)
Academic Qualifications
Psychology University London 2006-2009 | Bachelor of Science
A levels: Psychology (A) French (A) Humanities (A) English (A) Maths (B)
Key Skills
Able to help create and assist with individual curriculum management.
Good at helping youth to set goals and follow up on them.
Excels at conflict resolution.
Calm and patient.
Bilingual in French.
Work Experience
Child and Youth Worker London 2012 - Present Day
Managing a caseload of thirty students providing counselling and career goals.
Supporting students to achieve their goals and following up on students to support them.
Provided advice to students and group counselling to solve issues of bullying.
Child and Youth Worker (Counselling intern) | London September 2009 | January 2012
Responsible for getting to know students and their individual needs.
Provided advice to students on the best ways to solve their personal conflicts.
Delivered group counselling to girls experiencing issues with addiction.
Established a safe and supportive environment for group and individual counselling.
References
References are available on request.This comprehensive child and youth worker CV sample is just one of numerous examples that provide important insights into the process of CV writing. Jobseekers who are looking for further guidance should also check out the tools and CV builder that can be found on this site.
Related CVs Social Services CV Examples