Quantity Surveyor CV Example
In order to land a new job quantity surveying you will need to create a CV that covers all of your abilities and aptitudes fully. As well as highlighting your particular skill set, a well-written CV should include all of your work history and how it relates to your individual strengths. By choosing to adapt our quantity surveyor CV sample to your own requirements, you will have made use of a valuable tool. Not only will it aid you with presenting your work details in an appropriate format, but it will provide all sorts of further advice, such as what information you need to include.
Create This CVSee all templates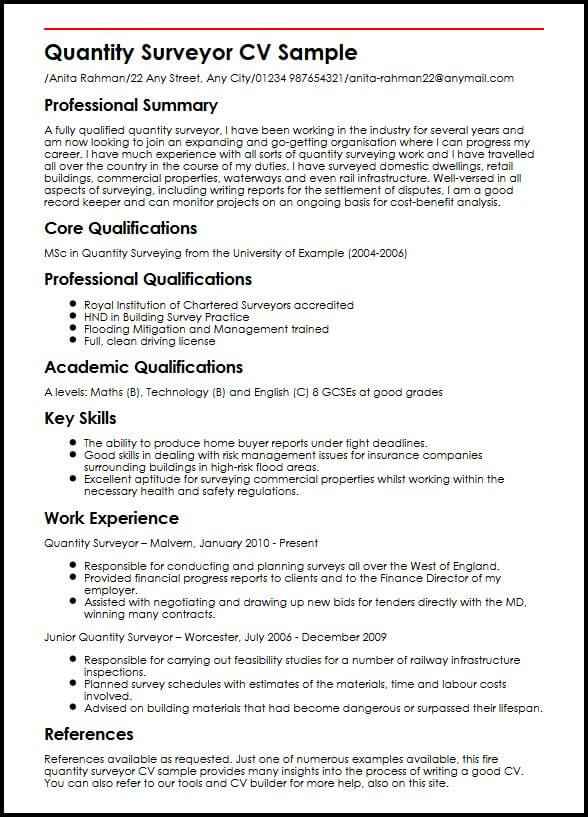 Build a professional CV that gets you hired.
Quantity Surveyor CV Sample/Anita Rahman/22 Any Street, Any City/01234 987654321/anita-rahman22@anymail.com
Professional Summary
A fully qualified quantity surveyor, I have been working in the industry for several years and am now looking to join an expanding and go-getting organisation where I can progress my career. I have much experience with all sorts of quantity surveying work and I have travelled all over the country in the course of my duties. I have surveyed domestic dwellings, retail buildings, commercial properties, waterways and even rail infrastructure. Well-versed in all aspects of surveying, including writing reports for the settlement of disputes, I am a good record keeper and can monitor projects on an ongoing basis for cost-benefit analysis.
Core Qualifications
MSc in Quantity Surveying from the University of Example (2004-2006)
Professional Qualifications
Royal Institution of Chartered Surveyors accredited
HND in Building Survey Practice
Flooding Mitigation and Management trained
Full, clean driving license
Academic Qualifications
A levels: Maths (B),Technology (B) and English (C)8 GCSEs at good grades
Key Skills
The ability to produce home buyer reports under tight deadlines.
Good skills in dealing with risk management issues for insurance companies surrounding buildings in high-risk flood areas.
Excellent aptitude for surveying commercial properties whilst working within the necessary health and safety regulations.
Work Experience
Quantity Surveyor | Malvern, January 2010 - Present
Responsible for conducting and planning surveys all over the West of England.
Provided financial progress reports to clients and to the Finance Director of my employer.
Assisted with negotiating and drawing up new bids for tenders directly with the MD, winning many contracts.
Junior Quantity Surveyor | Worcester, July 2006 - December 2009
Responsible for carrying out feasibility studies for a number of railway infrastructure inspections.
Planned survey schedules with estimates of the materials, time and labour costs involved.
Advised on building materials that had become dangerous or surpassed their lifespan.
References
References available as requested.Just one of numerous examples available, this fire quantity surveyor CV sample provides many insights into the process of writing a good CV. You can also refer to our tools and CV builder for more help, also on this site.
Related CVs Engineering CV Examples