Spa Therapist CV Example
Your first move towards getting a job as a spa therapist is to build a CV that highlights your qualifications, skills and experience to show how well you fit the role. Using our free spa therapist CV sample will help you create you own unique document in a professional format, with everything included to make your CV stand out to the recruiting manager. This will help you get to the interview stage with the best chances of going on further to get the job.
Create This CVSee all templates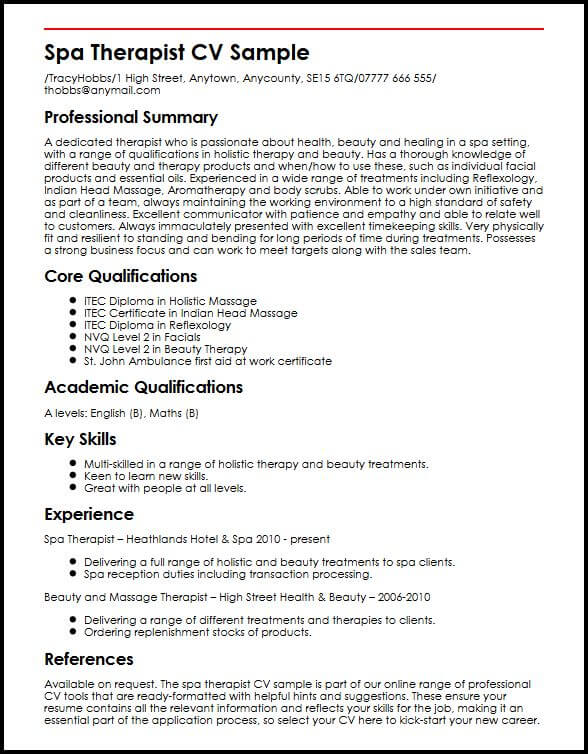 Build a professional CV that gets you hired.
Spa Therapist CV Sample/TracyHobbs/1 High Street, Anytown, Anycounty, SE15 6TQ/07777 666 555/ thobbs@anymail.com
Professional Summary
A dedicated therapist who is passionate about health, beauty and healing in a spa setting, with a range of qualifications in holistic therapy and beauty. Has a thorough knowledge of different beauty and therapy products and when/how to use these, such as individual facial products and essential oils. Experienced in a wide range of treatments including Reflexology, Indian Head Massage, Aromatherapy and body scrubs. Able to work under own initiative and as part of a team, always maintaining the working environment to a high standard of safety and cleanliness. Excellent communicator with patience and empathy and able to relate well to customers. Always immaculately presented with excellent timekeeping skills. Very physically fit and resilient to standing and bending for long periods of time during treatments. Possesses a strong business focus and can work to meet targets along with the sales team.
Core Qualifications
ITEC Diploma in Holistic Massage
ITEC Certificate in Indian Head Massage
ITEC Diploma in Reflexology
NVQ Level 2 in Facials
NVQ Level 2 in Beauty Therapy
St. John Ambulance first aid at work certificate
Academic Qualifications
A levels: English (B), Maths (B)
Key Skills
Multi-skilled in a range of holistic therapy and beauty treatments.
Keen to learn new skills.
Great with people at all levels.
Experience
Spa Therapist | Heathlands Hotel & Spa 2010 - present
Delivering a full range of holistic and beauty treatments to spa clients.
Spa reception duties including transaction processing.
Beauty and Massage Therapist | High Street Health & Beauty | 2006-2010
Delivering a range of different treatments and therapies to clients.
Ordering replenishment stocks of products.
References
Available on request.The spa therapist CV sample is part of our online range of professional CV tools that are ready-formatted with helpful hints and suggestions. These ensure your resume contains all the relevant information and reflects your skills for the job, making it an essential part of the application process, so select your CV here to kick-start your new career.
Related CVs Beauty Therapy CV Examples