Car Salesman CV Example
To achieve your dream job as a car salesman, it is necessary to market yourself in the most impressive way. By outlining your relevant skills, experience and qualifications in an effective way, our car salesman CV sample will help your application get noticed by the hiring manager. Studying a car salesman CV sample before you begin to write your resume will provide you with valuable insights into the best format to use and the information that is essential to include. The free car salesman CV below is an excellent example of a CV that will help your application stand out from the competition.
Create This CVSee all templates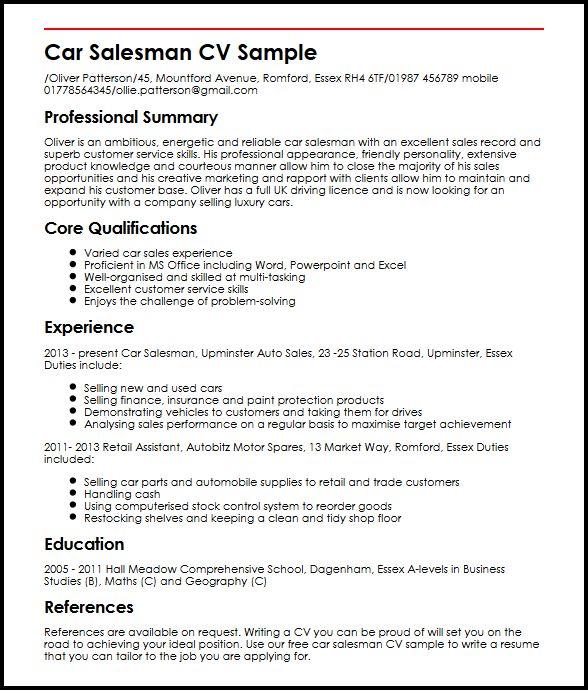 Build a professional CV that gets you hired.
Car Salesman CV Sample/Oliver Patterson/45, Mountford Avenue, Romford, Essex RH4 6TF/01987 456789 mobile 01778564345/ollie.patterson@gmail.com
Professional Summary
Oliver is an ambitious,energetic and reliable car salesman with an excellent sales record and superbcustomer service skills. His professional appearance, friendly personality, extensive product knowledge and courteous manner allow him to close the majority of his sales opportunities and his creative marketing and rapport with clients allow him to maintain and expand his customer base. Oliver has a full UK driving licence and is now looking for an opportunity with a company selling luxury cars.
Core Qualifications
Varied car sales experience
Proficient in MS Office including Word, Powerpoint and Excel
Well-organised and skilled at multi-tasking
Excellent customer service skills
Enjoys the challenge of problem-solving
Experience
2013 - presentCar Salesman, Upminster Auto Sales, 23 -25 Station Road, Upminster, EssexDuties include:
Selling new and used cars
Selling finance, insurance and paint protection products
Demonstrating vehicles to customers andtaking them for drives
Analysing sales performance on a regular basis to maximise target achievement
2011- 2013Retail Assistant, Autobitz Motor Spares, 13 Market Way, Romford, EssexDuties included:
Selling car parts and automobile supplies to retail and trade customers
Handling cash
Using computerised stock control system to reorder goods
Restocking shelves and keeping a clean and tidy shop floor
Education
2005 - 2011 Hall Meadow Comprehensive School, Dagenham, EssexA-levels in Business Studies (B), Maths (C) and Geography (C)
References
References are available on request.Writing a CV you can be proud of will set you on the road to achieving your ideal position. Use our free car salesman CV sample to write a resume that you can tailor to the job you are applying for.
Related CVs Retail CV Examples