Fashion Sales Associate CV Example
It is said that the world of fashion never sleeps. Anyone who desires to enjoy a role within this lucrative industry must possess a keen eye for style, a willingness to work hard and above all, strong marketing skills. A fashion sales associate is a position which can open up a world of opportunities and there are countless individuals who desire such a role. This is the main reason why so many job seekers have already utilised the fashion sales associate CV sample that is found below.Let us now take a closer look at some of the sections to be emphasised as well as a handful of important skills to mention.
Create This CVSee all templates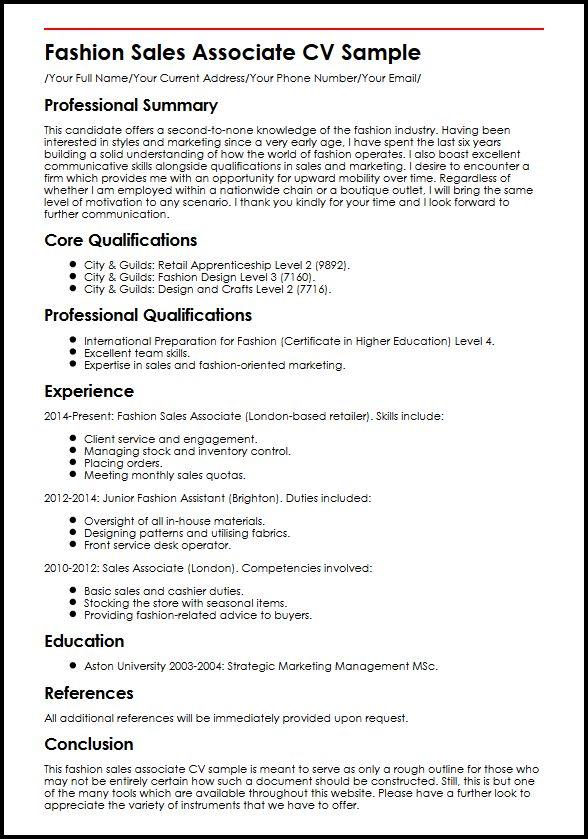 Build a professional CV that gets you hired.
Fashion Sales Associate CV Sample/Your Full Name/Your Current Address/Your Phone Number/Your Email/
Professional Summary
This candidate offers a second-to-none knowledge of the fashion industry.Having been interested in styles and marketing since a very early age, I have spent the last six years building a solid understanding of how the world of fashion operates. I also boast excellent communicative skills alongside qualifications in sales and marketing. I desire to encounter a firm which provides me with an opportunity for upward mobility over time. Regardless of whether I am employed within a nationwide chain or a boutique outlet, I will bring the same level of motivation to any scenario.I thank you kindly for your time and I look forward to further communication.
Core Qualifications
City & Guilds: Retail Apprenticeship Level 2 (9892).
City & Guilds: Fashion Design Level 3 (7160).
City & Guilds: Design and Crafts Level 2 (7716).
Professional Qualifications
International Preparation for Fashion (Certificate in Higher Education) Level 4.
Excellent team skills.
Expertise in sales and fashion-oriented marketing.
Experience
2014-Present: Fashion Sales Associate (London-based retailer).Skills include:
Client service and engagement.
Managing stock and inventory control.
Placing orders.
Meeting monthly sales quotas.
2012-2014: Junior Fashion Assistant (Brighton).Duties included:
Oversight of all in-house materials.
Designing patterns and utilising fabrics.
Front service desk operator.
2010-2012: Sales Associate (London).Competencies involved:
Basic sales and cashier duties.
Stocking the store with seasonal items.
Providing fashion-related advice to buyers.
Education
Aston University 2003-2004: Strategic Marketing Management MSc.
References
All additional references will be immediately provided upon request.
Conclusion
This fashion sales associate CV sample is meant to serve as only a rough outline for those who may not be entirely certain how such a document should be constructed. Still, this is but one of the many tools which are available throughout this website. Please have a further look to appreciate the variety of instruments that we have to offer.
Related CVs Retail CV Examples