Mortgage Broker CV Example
Those who are keen on entering into a promising financial career will often be interested in the perks of becoming a mortgage broker.However, it is difficult to break into this competitive industry if you are not aware of how a CV needs to appear before it is presented to a prospective employer.This is the main reason why a growing number of job applicants are employing the mortgage broker CV sample template that is found below.So, please take a look at these basic guidelines; you will never get the second chance to make a first impression.
Create This CVSee all templates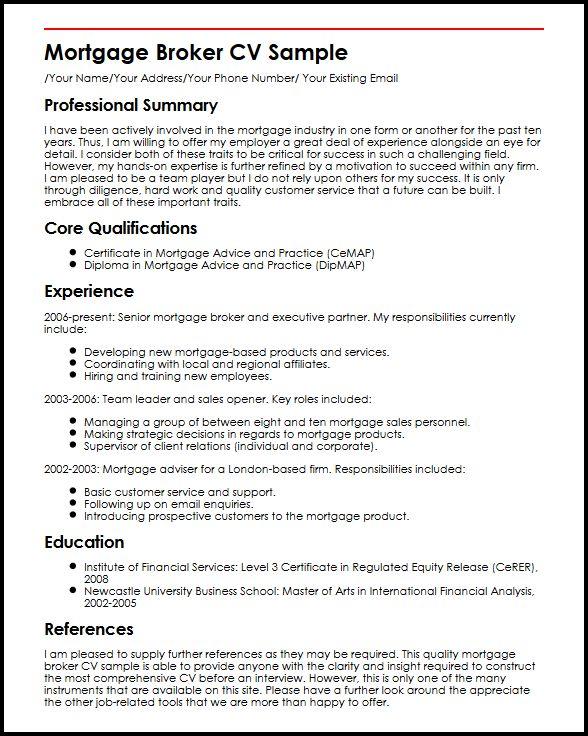 Build a professional CV that gets you hired.
Mortgage Broker CV Sample/Your Name/Your Address/Your Phone Number/ Your Existing Email
Professional Summary
I have been actively involved in the mortgage industry in one form or another for the past ten years.Thus, I am willing to offer my employer a great deal of experience alongside an eye for detail.I consider both of these traits to be critical for success in such a challenging field.However, my hands-on expertise is further refined by a motivation to succeed within any firm.I am pleased to be a team player but I do not rely upon others for my success.It is only through diligence, hard work and quality customer service that a future can be built.I embrace all of these important traits.
Core Qualifications
Certificate in Mortgage Advice and Practice (CeMAP)
Diploma in Mortgage Advice and Practice (DipMAP)
Experience
2006-present: Senior mortgage broker and executive partner.My responsibilities currently include:
Developing new mortgage-based products and services.
Coordinating with local and regional affiliates.
Hiring and training new employees.
2003-2006: Team leader and sales opener.Key roles included:
Managing a group of between eight and ten mortgage sales personnel.
Making strategic decisions in regards to mortgage products.
Supervisor of client relations (individual and corporate).
2002-2003: Mortgage adviser for a London-based firm.Responsibilities included:
Basic customer service and support.
Following up on email enquiries.
Introducing prospective customers to the mortgage product.
Education
Institute of Financial Services: Level 3 Certificate in Regulated Equity Release (CeRER), 2008
Newcastle University Business School: Master of Arts in International Financial Analysis, 2002-2005
References
I am pleased to supply further references as they may be required.This quality mortgage broker CV sample is able to provide anyone with the clarity and insight required to construct the most comprehensive CV before an interview.However, this is only one of the many instruments that are available on this site.Please have a further look around the appreciate the other job-related tools that we are more than happy to offer.
Related CVs Banking CV Examples