Bank Officer CV Example
Your first step when it comes to growing a career in the banking industry as Bank Officer is to design a winning CV that positively highlights your strengths and also clearly reflects all your banking skills and abilities. Our free Bank Officer CV Sample is a priceless tool in terms of helping you gain insight into what needs to be included in your CV. It also guides you on the most appropriate format that will capture the attention of any HR manager.
Create This CVSee all templates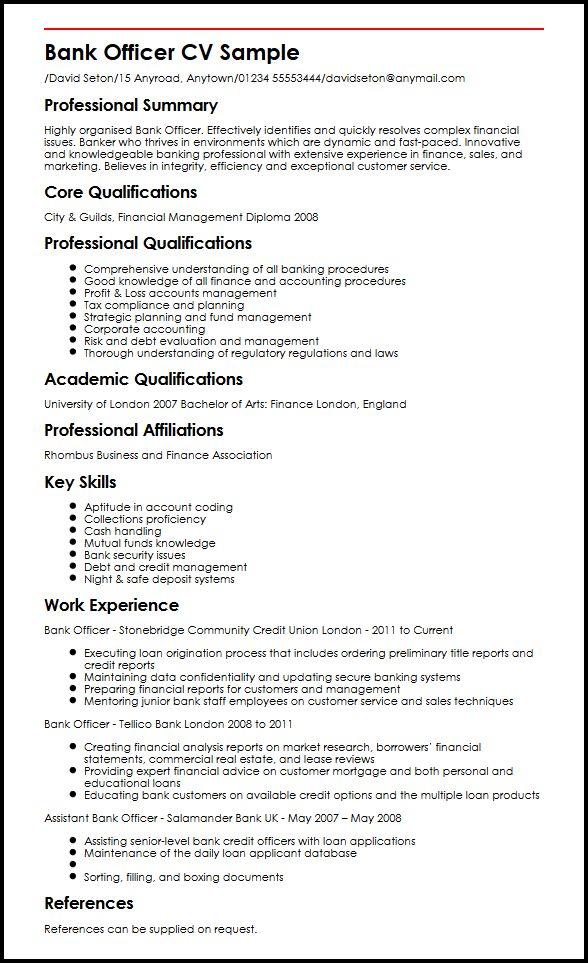 Build a professional CV that gets you hired.
Bank Officer CV Sample/David Seton/15 Anyroad, Anytown/01234 55553444/davidseton@anymail.com
Professional Summary
Highly organised Bank Officer. Effectively identifies and quickly resolves complex financial issues. Banker who thrives in environments which are dynamic and fast-paced. Innovative and knowledgeable banking professional with extensive experience in finance, sales, and marketing. Believes in integrity, efficiency and exceptional customer service.
Core Qualifications
City & Guilds, Financial Management Diploma 2008
Professional Qualifications
Comprehensive understanding of all banking procedures
Good knowledge of all finance and accounting procedures
Profit & Loss accounts management
Tax compliance and planning
Strategic planning and fund management
Corporate accounting
Risk and debt evaluation and management
Thorough understanding of regulatory regulations and laws
Academic Qualifications
University of London 2007 Bachelor of Arts: Finance London, England
Professional Affiliations
Rhombus Business and Finance Association
Key Skills
Aptitude in account coding
Collections proficiency
Cash handling
Mutual funds knowledge
Bank security issues
Debt and credit management
Night & safe deposit systems
Work Experience
Bank Officer - Stonebridge Community Credit Union London - 2011 to Current
Executing loan origination process that includes ordering preliminary title reports and credit reports
Maintaining data confidentiality and updating secure banking systems
Preparing financial reports for customers and management
Mentoring junior bank staff employees on customer service and sales techniques
Bank Officer - Tellico Bank London 2008 to 2011
Creating financial analysis reports on market research, borrowers' financial statements, commercial real estate, and lease reviews
Providing expert financial advice on customer mortgage and both personal and educational loans
Educating bank customers on available credit options and the multiple loan products
Assistant Bank Officer - Salamander Bank UK - May 2007 | May 2008
Assisting senior-level bank credit officers with loan applications
Maintenance of the daily loan applicant database
Sorting, filling, and boxing documents
References
References can be supplied on request.There are many open opportunities to land that dream job as a banker, although that will not come to you easily. This Bank Officer CV Sample is just one among the various examples that offer priceless insights into the entire process of CV writing. Jobseekers ought to maximise on our professional CV builder plus tools available on this site to get additional personalised guidance.
Related CVs Banking CV Examples