Credit Officer CV Example
The amount of work involved in finding and getting a credit officer role can be daunting, so it helps to break it down into steps. Start with creating a CV that helps you get a foot in the door. You can use our free credit officer CV sample as a foundation towards writing the ideal CV, with accurate information and a strong layout. Getting noticed is half the battle.
Create This CVSee all templates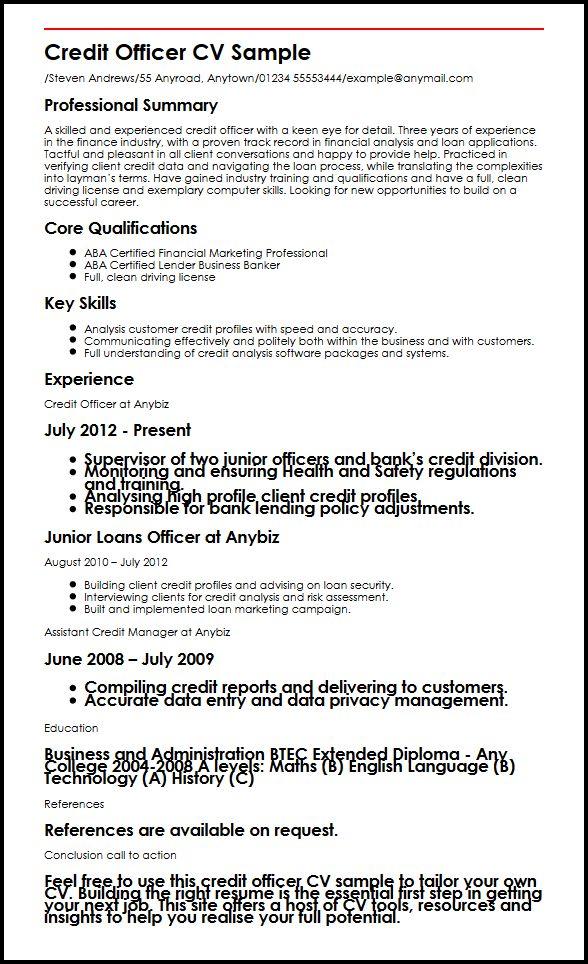 Build a professional CV that gets you hired.
Credit Officer CV Sample/Steven Andrews/55 Anyroad, Anytown/01234 55553444/example@anymail.com
Professional Summary
A skilled and experienced credit officer with a keen eye for detail. Three years of experience in the finance industry, with a proven track record in financial analysis and loan applications. Tactful and pleasant in all client conversations and happy to provide help. Practiced in verifying client credit data and navigating the loan process, while translating the complexities into layman's terms. Have gained industry training and qualifications and have a full, clean driving license and exemplary computer skills. Looking for new opportunities to build on a successful career.
Core Qualifications
ABA Certified Financial Marketing Professional
ABA Certified Lender Business Banker
Full, clean driving license
Key Skills
Analysis customer credit profiles with speed and accuracy.
Communicating effectively and politely both within the business and with customers.
Full understanding of credit analysis software packages and systems.
Experience
Credit Officer at Anybiz
July 2012 - Present

Supervisor of two junior officers and bank's credit division.
Monitoring and ensuring Health and Safety regulations and training.
Analysing high profile client credit profiles.
Responsible for bank lending policy adjustments.

Junior Loans Officer at Anybiz
August 2010 | July 2012
Building client credit profiles and advising on loan security.
Interviewing clients for credit analysis and risk assessment.
Built and implemented loan marketing campaign.
Assistant Credit Manager at Anybiz
June 2008 | July 2009

Compiling credit reports and delivering to customers.
Accurate data entry and data privacy management.
Education
Business and Administration BTEC Extended Diploma - Any College 2004-2008A levels: Maths (B) English Language (B) Technology (A) History (C)
References
References are available on request.
Conclusion call to action
Feel free to use this credit officer CV sample to tailor your own CV. Building the right resume is the essential first step in getting your next job. This site offers a host of CV tools, resources and insights to help you realise your full potential.