Branch Manager CV Example
While an executive may be highly skilled, he or she still needs to present these qualifications in the most attractive manner.In fact, the outcome of a job application could very well depend upon how a CV is written and constructed.If you are unfamiliar with this process or are unsure what information should be included, this CV sample for executives will come in very handy.Please take some time to browse through the different sections in order to understand how this vital document is written.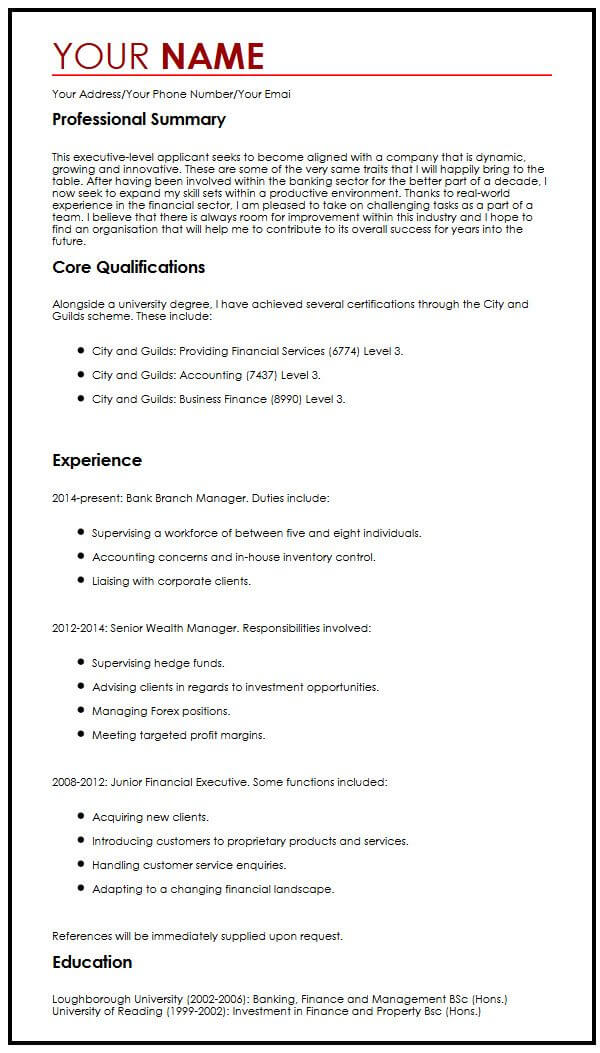 Our professional CV builder is designed to build the most powerful CV and save you time.
Your Address/Your Phone Number/Your Emai
Professional Summary
This executive-level applicant seeks to become aligned with a company that is dynamic, growing and innovative.These are some of the very same traits that I will happily bring to the table.After having been involved within the banking sector for the better part of a decade, I now seek to expand my skill sets within a productive environment.Thanks to real-world experience in the financial sector, I am pleased to take on challenging tasks as a part of a team.I believe that there is always room for improvement within this industry and I hope to find an organisation that will help me to contribute to its overall success for years into the future.
Core Qualifications
Alongside a university degree, I have achieved several certifications through the City and Guilds scheme.These include:
City and Guilds: Providing Financial Services (6774) Level 3.
City and Guilds: Accounting (7437) Level 3.
City and Guilds: Business Finance (8990) Level 3.
Experience
2014-present: Bank Branch Manager.Duties include:
Supervising a workforce of between five and eight individuals.
Accounting concerns and in-house inventory control.
Liaising with corporate clients.
2012-2014: Senior Wealth Manager.Responsibilities involved:
Supervising hedge funds.
Advising clients in regards to investment opportunities.
Managing Forex positions.
Meeting targeted profit margins.
2008-2012: Junior Financial Executive.Some functions included:
Acquiring new clients.
Introducing customers to proprietary products and services.
Handling customer service enquiries.
Adapting to a changing financial landscape.
References will be immediately supplied upon request.
Education
Loughborough University (2002-2006): Banking, Finance and Management BSc (Hons.)University of Reading (1999-2002): Investment in Finance and Property Bsc (Hons.)
Conclusion
This CV sample for executives should have highlighted all of the most important points that need to be covered.While the document must be concise, it also needs to illustrate the competencies that are relevant to your specific area of expertise.For even more advice as well as to peruse other CV examples, please feel free to browse through the remainder of this website.