The banking industry within the United Kingdom is extremely diverse and while certain roles can be challenging, the possibility to build a solid future is always realistic.The position of a personal banker is particularly rewarding, for developing relationships over time is easily one of the best ways to establish valuable contacts.When an applicant desires a job within such large organisations such as Citibank, a bright future could indeed become a reality.Many entrants have used the Citibank personal banker CV sample illustrated below as a rough outline to follow before an upcoming employment interview.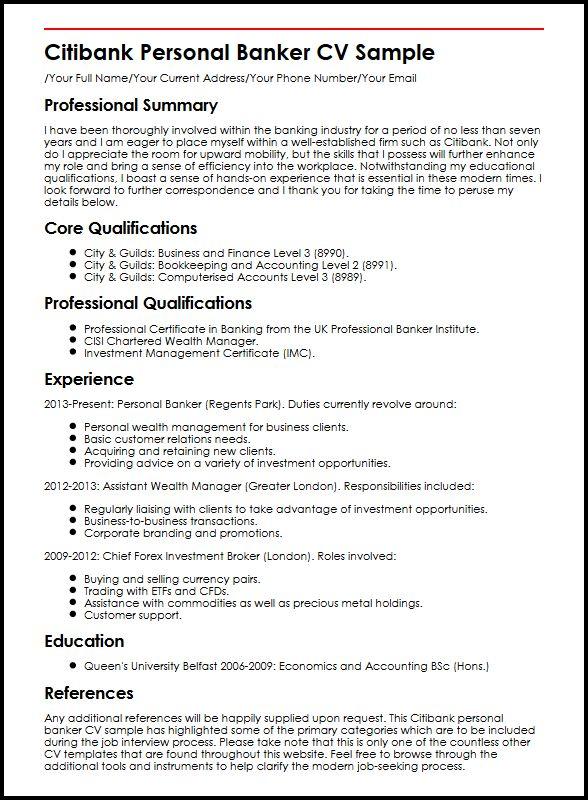 Our professional CV builder is designed to build the most powerful CV and save you time.
Citibank Personal Banker CV Sample/Your Full Name/Your Current Address/Your Phone Number/Your Email
Professional Summary
I have been thoroughly involved within the banking industry for a period of no less than seven years and I am eager to place myself within a well-established firm such as Citibank.Not only do I appreciate the room for upward mobility, but the skills that I possess will further enhance my role and bring a sense of efficiency into the workplace.Notwithstanding my educational qualifications, I boast a sense of hands-on experience that is essential in these modern times.I look forward to further correspondence and I thank you for taking the time to peruse my details below.
Core Qualifications
City & Guilds: Business and Finance Level 3 (8990).
City & Guilds: Bookkeeping and Accounting Level 2 (8991).
City & Guilds: Computerised Accounts Level 3 (8989).
Professional Qualifications
Professional Certificate in Banking from the UK Professional Banker Institute.
CISI Chartered Wealth Manager.
Investment Management Certificate (IMC).
Experience
2013-Present: Personal Banker (Regents Park).Duties currently revolve around:
Personal wealth management for business clients.
Basic customer relations needs.
Acquiring and retaining new clients.
Providing advice on a variety of investment opportunities.
2012-2013: Assistant Wealth Manager (Greater London).Responsibilities included:
Regularly liaising with clients to take advantage of investment opportunities.
Business-to-business transactions.
Corporate branding and promotions.
2009-2012:Chief Forex Investment Broker (London).Roles involved:
Buying and selling currency pairs.
Trading with ETFs and CFDs.
Assistance with commodities as well as precious metal holdings.
Customer support.
Education
Queen's University Belfast 2006-2009: Economics and Accounting BSc (Hons.)
References
Any additional references will be happily supplied upon request.This Citibank personal banker CV sample has highlighted some of the primary categories which are to be included during the job interview process.Please take note that this is only one of the countless other CV templates that are found throughout this website.Feel free to browse through the additional tools and instruments to help clarify the modern job-seeking process.