Legal Advisor CV Example
In order to secure a coveted job as a legal advisor you will need to write a CV that reflects the key skills and abilities you have for performing this role while also stressing your strengths. Using a free legal advisor CV sample as a template will give you understanding of the types of information that you need to include in your own CV as well as how the CV should be formatted.
Create This CVSee all templates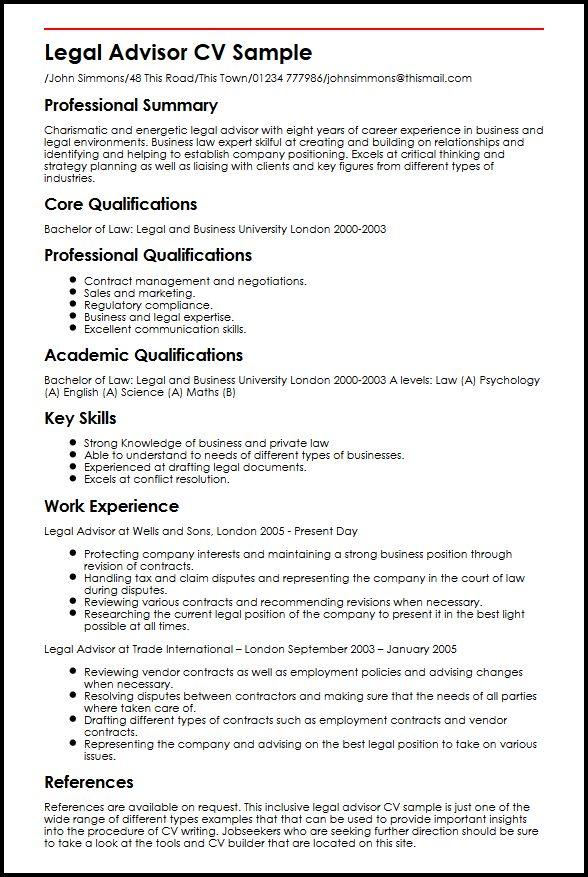 Build a professional CV that gets you hired.
Legal Advisor CV Sample/John Simmons/48 This Road/This Town/01234 777986/johnsimmons@thismail.com
Professional Summary
Charismatic and energetic legal advisor with eight years of career experience in business and legal environments. Business law expert skilful at creating and building on relationships and identifying and helping to establish company positioning. Excels at critical thinking and strategy planning as well as liaising with clients and key figures from different types of industries.
Core Qualifications
Bachelor of Law: Legal and Business University London 2000-2003
Professional Qualifications
Contract management and negotiations.
Sales and marketing.
Regulatory compliance.
Business and legal expertise.
Excellent communication skills.
Academic Qualifications
Bachelor of Law: Legal and Business University London 2000-2003A levels: Law (A) Psychology (A) English (A) Science (A) Maths (B)
Key Skills
Strong Knowledge of business and private law
Able to understand to needs of different types of businesses.
Experienced at drafting legal documents.
Excels at conflict resolution.
Work Experience
Legal Advisor at Wells and Sons, London 2005 - Present Day
Protecting company interests and maintaining a strong business position through revision of contracts.
Handling tax and claim disputes and representing the company in the court of law during disputes.
Reviewing various contracts and recommending revisions when necessary.
Researching the current legal position of the company to present it in the best light possible at all times.
Legal Advisor at Trade International | London September 2003 | January 2005
Reviewing vendor contracts as well as employment policies and advising changes when necessary.
Resolving disputes between contractors and making sure that the needs of all parties where taken care of.
Drafting different types of contracts such as employment contracts and vendor contracts.
Representing the company and advising on the best legal position to take on various issues.
References
References are available on request.This inclusive legal advisor CV sample is just one of the wide range of different types examples that that can be used to provide important insights into the procedure of CV writing. Jobseekers who are seeking further direction should be sure to take a look at the tools and CV builder that are located on this site.
Related CVs Law CV Examples