Retail Merchandiser CV Example
Merchandiser jobs can be hotly contested, so a killer CV is essential if you are to make headway in this field. The ideal CV lists gives the correct priority to all information, and sets it out in a format that's clear and easy to read, making it easier for recruiters and managers to come to a decision. As you craft your CV to the job you want, a merchandiser CV sample can be a valuable tool to guide you along the right lines. The merchandiser CV sample listed here can be used as a blueprint document for the creation of a successful CV.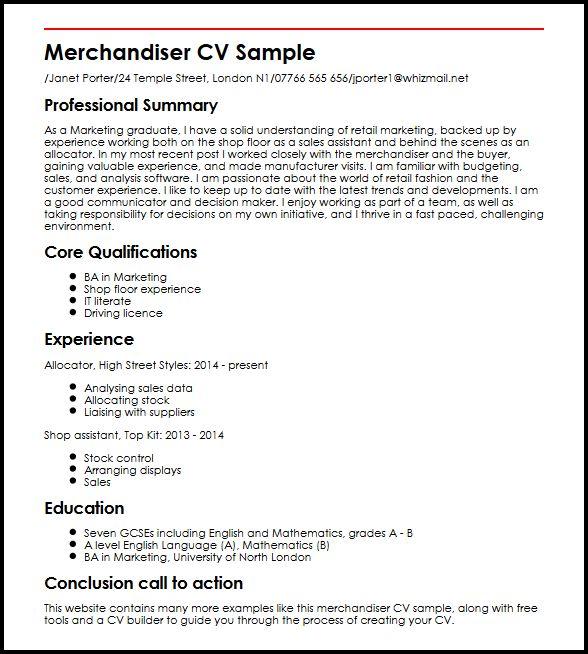 Our professional CV builder is designed to build the most powerful CV and save you time.
Merchandiser CV Sample/Janet Porter/24 Temple Street, London N1/07766 565 656/jporter1@whizmail.net
Professional Summary
As a Marketing graduate, I have a solid understanding of retail marketing, backed up by experience working both on the shop floor as a sales assistant and behind the scenes as an allocator. In my most recent post I worked closely with the merchandiser and the buyer, gaining valuable experience, and made manufacturer visits. I am familiar with budgeting, sales, and analysis software. I am passionate about the world of retail fashion and the customer experience. I like to keep up to date with the latest trends and developments. I am a good communicator and decision maker. I enjoy working as part of a team, as well as taking responsibility for decisions on my own initiative, and I thrive in a fast paced, challenging environment.
Core Qualifications
BA in Marketing
Shop floor experience
IT literate
Driving licence
Experience
Allocator, High Street Styles: 2014 - present
Analysing sales data
Allocating stock
Liaising with suppliers
Shop assistant, Top Kit: 2013 - 2014
Stock control
Arranging displays
Sales
Education
Seven GCSEs including English and Mathematics, grades A - B
A level English Language (A), Mathematics (B)
BA in Marketing, University of North London
Conclusion call to action
This website contains many more examples like this merchandiser CV sample, along with free tools and a CV builder to guide you through the process of creating your CV.