Application Support Analyst CV Example
To ensure success in a job search for an application support analyst post, it is essential that the applicant's CV is well written and properly adapted to the job advertised. It should also include relevant qualifications, experience and skills. Before writing or updating their CV, job seekers will find it most helpful to review this application support analyst CV sample, which gives an idea of the right formatting and style.The application support analyst CV sample below illustrates a document that will get a candidate noticed by the recruiter and which should secure an invitation to a job interview.
Create This CVSee all templates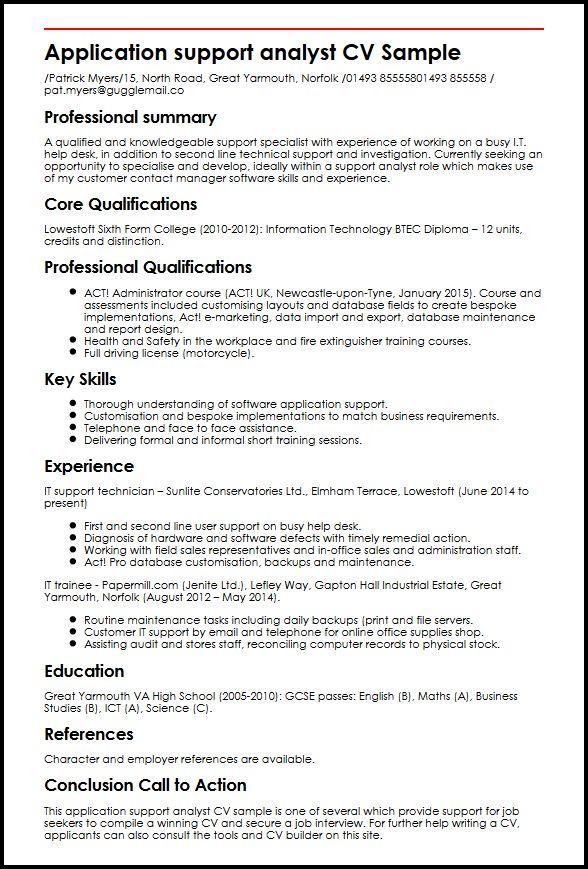 Build a professional CV that gets you hired.
Application support analyst CV Sample /Patrick Myers/15, North Road, Great Yarmouth, Norfolk /01493 85555801493 855558 / pat.myers@gugglemail.co
Professional summary
A qualified and knowledgeable support specialist with experience of working on a busy I.T. help desk, in addition to second line technical support and investigation.Currently seeking an opportunity to specialise and develop, ideally within a support analyst role which makes use of my customer contact manager software skills and experience.
Core Qualifications
Lowestoft Sixth Form College (2010-2012):Information Technology BTEC Diploma | 12 units, credits and distinction.
Professional Qualifications
ACT! Administrator course (ACT! UK, Newcastle-upon-Tyne, January 2015).Course and assessments included customising layouts and database fields to create bespoke implementations, Act! e-marketing,data import and export, database maintenance and report design.
Health and Safety in the workplace and fire extinguisher training courses.
Full driving license (motorcycle).
Key Skills
Thorough understanding of software application support.
Customisation and bespoke implementations to match business requirements.
Telephone and face to face assistance.
Delivering formal and informal short training sessions.
Experience
IT support technician | Sunlite Conservatories Ltd., Elmham Terrace, Lowestoft (June 2014 to present)
First and second line user support on busy help desk.
Diagnosis of hardware and software defects with timely remedial action.
Working with field sales representatives and in-office sales and administration staff.
Act! Pro database customisation, backups and maintenance.
IT trainee -Papermill.com (Jenite Ltd.), Lefley Way, Gapton Hall Industrial Estate, Great Yarmouth, Norfolk(August 2012 | May 2014).
Routine maintenance tasks including daily backups (print and file servers.
Customer IT support by email and telephone for online office supplies shop.
Assisting audit and stores staff, reconciling computer records to physical stock.
Education
Great Yarmouth VA High School (2005-2010):GCSE passes: English (B), Maths (A), Business Studies (B), ICT (A), Science (C).
References
Character and employer references are available.
Conclusion Call to Action
This application support analyst CV sample is one of several which provide support for job seekers to compile a winning CV and secure a job interview. For further help writing a CV, applicants can also consult the tools and CV builder on this site.
Related CVs Information Technology CV Examples